As pictured below, equity indexes have been highly range-bound since the end of April.  That trading range has been between about 470 and 510 in the Russell 2000, and 865 and 930 in the S&P 500.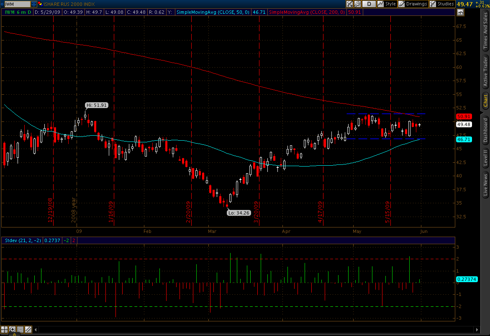 I doubt that this range is likely to persist for much longer. Fans of technical analysis will note that SPX and RUT are caught in the narrow space between their respective 50- and 200-day moving averages: a break above or below either average will be treated as significant by many investors.  Also notice that the Nasdaq 100 (below) has been trading above its 200-day moving average for most of May, and that it is setting up for a "golden cross" (50-day crossing above 200-day MA) any day now.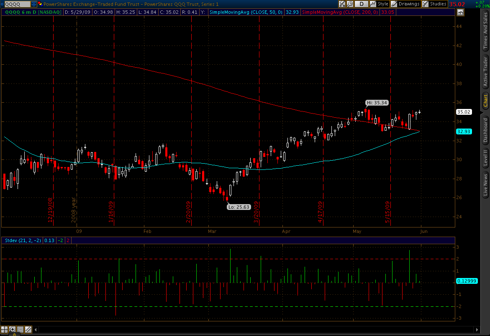 It is difficult to discern any directional hypothesis from these charts, but it does seem unlikely that indexes will continue to flatline as they have in recent weeks.  While this directionless churn is ideal for the market-neutral, short-vega iron condors we publish in our newsletter, in case markets do break out from the recent range, it will be worth having some long vega exposure, meaning positions that will profit if implied volatility rises. Because we don't have a directional thesis, we also want a trade that is relatively delta-neutral.
The simplest way to get some delta-neutral, long vega exposure would be to buy a straddle. The IWM June 49 straddle can be bought for about $3.62 (buy 1 IWM June 49 call, buy 1 IWM June 49 put). While this trade has unlimited profit potential, you're paying for that privilege: it loses about $7.50 per day to time decay. A slightly more complex alternative would be the IWM June 48/50/52 put butterfly, which can be sold for about $0.38 (sell 1 IWM June 48 put, buy 2 IWM June 50 puts, sell 1 IWM June 52 put). This profit potential of this trade is capped at the opening credit received, but it is also less vulnerable to time decay.
What if you want a trade this is long vega and delta-neutral, but also benefits from time decay? The IWM June/July 44/46/54/56 double diagonal can be bought for about $0.50 (buy 1 IWM July 44 put, sell 1 IWM June 46 put, sell 1 IWM June 54 call, buy 1 IWM July 56 call). This trade has all of the desired features: minimal directional exposure, positive theta, and positive exposure to any increase in implied volatility due to the longer-dated options purchased. As with any double diagonal, even if the underlying doesn't cooperate and stays relatively motionless, you'll still have a small profit at June expiration, and can decide at that point whether to close out the trade entirely, or roll the June options forward into a July iron condor.