Apple stock plummeted dramatically after it launched its highly anticipated iPhone '5C', which completely caught the markets by surprise by disclosing a much higher selling price than expected.
Investor confidence slumped because of the diminished ability of this new device to be able to penetrate and capture new clientele within important emerging markets, such as China. Further disappoint ensued after a premium version of the 5C delivered only minimum hardware enhancements although it did boost a fingerprint scanner.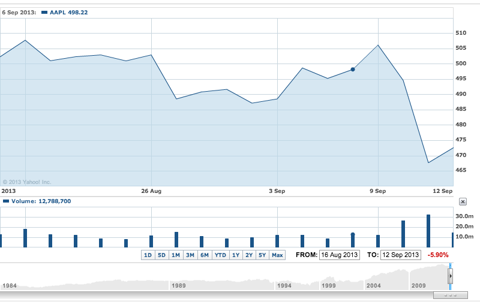 Chart provided courtesty of Investoo.com
Main Reactions
The 5C and its upgrade, the 5S, which were presented amid intense publicity, did win some support from prominent analysts who concluded the Apple was attempting to limit the damage of declining profit margins by keeping the prices of its new devices high.
However, other critics were not so polite by assessing that the most valuable technology firm in the world had missed a vital opportunity. They explained that Apple could now fail to bolster its declining market share in the emerging markets and Asia. The company has recently been confronted by intense competition from major rivals, such as Samsung, in these key growth areas.
For example, the 5C will retail at a price of $730 in China, which is over double the average monthly national income of urban dwellers. In addition, this figure is $200 more that the device's selling price in the USA. With such a cost structure, many analysts fail to see how this unit can possibly reverse the fortunes of Apple in the lower-end markets. Most traders and investors were prompt to adopt an identical viewpoint as they drove the value of Apple shares dramatically downwards shortly following the launch. In fact, the decline was of such a magnitude it rivaled the company's last major collapse, which occurred on 24th January of this year.
Negative Impacts of the Launch
Increasing speculation about the production of new iPhones had helped the shares of Apple to climb in value by over 28% from the start of July until just prior to the launch. Investors also expressed disappointment over the iPhone 5S since they have become adapted to expecting exciting revelations from the release of every new version of the iPhone. The 5S simply just failed to hit the mark in this respect. This was a worrisome development for Apple since the iPhone range of products generates about 50% of the total profits produced by this firm.
Market specialists summarized the impacts of the launch by stating that investors were completely stunned by the high prices. As these devices have little chance of seriously competing with the cheaper mobile phones of major competitors, these new mobile units offer little hope of being able to capture new global markets. Analysts also added that no new innovative features were provided and that these products were basically just rehashes of old designs.
Admittedly, the 5S does offer a fingerprint scanner and new colors but does not introduce any striking features that will inspire new custom. In conclusion, the Apple launch was categorized as a complete scrambles as it did not, in any way, live up to the this firm's outstanding reputation for presenting amazing and innovative technological advancements during every new product launch.
Consequences of this Event
Subsequent to this event, a premier rating agency revised its market share forecasts for Apple dramatically downwards by predicting that they will decline by just over 15% in 2013 and by almost 13% during 2014. This company explained its predictions by advising, that instead of Apple devising a competitive pricing structure for the 5C, it has decided to target the $750 smartphone sector. As such, these new devices possess little chance of capturing a new vibrant market.
The prices selected for the 5C and 5S by Apple are not supportive of growth but, instead, have been chosen to retain profit margins. Such a dismal launch does not bode well for this company after its second quarter financial reports for 2013 revealed that profits had slumped by just over 20% while gross margins dropped by nearly 38%.
Disclosure: I have no positions in any stocks mentioned, and no plans to initiate any positions within the next 72 hours.