*Subscribe to my RSS*
Feeding the World - The 'Yum' My Way!
When Yum! Brands Inc. was recently selected as one of the most innovative companies in the world, the faces of its 74,000 employees were filled with smiles because they knew it would happen. Yum! Brands was ranked #41 in the list of innovative companies by Forbes, jumping seven ranks up #48. Its tag line, "Alone we are delicious, together we are yummy," became more meaningful because of results the company is producing year on year. Yum! Brands, based in Louisville, Kentucky, is the world's largest restaurant company in terms of number of restaurants, with over 39,000 restaurants in more than 130 countries and territories. Yum! is ranked #201 on the Fortune 500 list, with revenues of over $13 billion in 2012. The company's restaurant brands - KFC , Pizza Hut and Taco Bell - are the global leaders of the chicken, pizza and Mexican-style food categories. Outside the United States, the Yum! Brands system opened over five new restaurants per day, making it a leader in international retail development. Yum comprises company-owned restaurants (about 20% of the system) and franchised or licensed restaurants and operations.
What Makes Yum So Yummy
Consistency is the key that has helped this brand grow so enviously. Being one of the best employee-friendly companies in the world, it is equally customer-friendly and customer-centric. The growth of the brand outside the U.S. market has been very rapid, especially in China and India, two of the biggest consumer markets in the world. Providing delicacies across the globe on different continents that have different cultural and food habits is a challenge. But Yum has met the challenge of catering to the food habits of people ranging from the U.S. to India, but it also faces challenges from competitors like McDonalds and Starbucks Corp. Although its market capitalization (31.94b) is lower compared to McDonalds (97.71b), its EPS is very consistent at 13% with ROI at 22%, which is the highest in the industry. There was news recently that Yum is going to increase its dividend by 10% to 37 cents, which was happy news for its shareholders. One of the strongest reasons to buy Yum brand shares is the future prospects of the company in markets outside the U.S., especially in Asia. KFC is opening outlets very aggressively, even in small towns in India, which has the highest proportion of middle-class citizens in the world. The following chart will provide you with a basic understanding of the price movements of Yum shares.

Alternatively, you can also refer to the below chart for more details on the performance of Yum shares.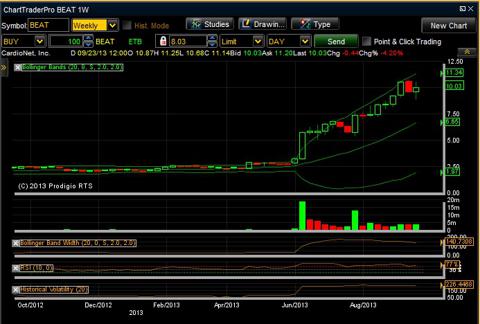 Current Quarterly Income Statement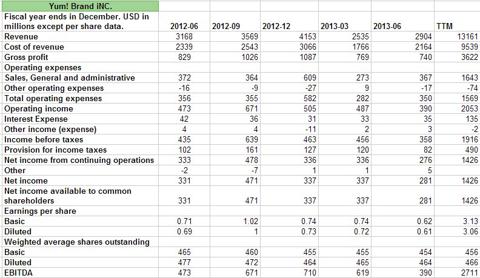 Market Share
Pizza Hut leads the U.S. market with 15% market share. Pizza Hut operates in approximately 92 countries with a total of 12,685 outlets.
Taco Bell is the leader in the U.S. market with a 58% share in Mexican QSR.
KFC is a 59-year-old brand with 15,000 outlets around the globe.
Challenges
As a competitor in the industry, Yum must deal with commodity prices, health concerns and intense competition. The main inputs for Yum are chicken, beef, pork, cheese, flour, produce, paper and beverages. If commodity prices rise, intense competition makes it difficult to counter by setting higher prices. Health and obesity concerns are a constant factor in this industry. In response to these concerns, KFC is eliminating trans fat, and Taco Bell is allowing customization of menu items. Yum's diverse portfolio of restaurants attracts competition from many different types of quick-service restaurants. McDonald's (NYSE:MCD) is Yum's largest global competitor. MCD is the leader in the U.S QSR segment and is growing in China. KFC is the dominant player in the chicken QSR segment, with its closest competitor being Popeye's, although increased chicken choices at burger joints like McDonald's, Burger King and Wendy's are also grabbing sales from KFC. Pizza Hut has received significant competition from Domino's Pizza (NYSE:DPZ) and Papa John's over the last few years, which has been slowing Pizza Hut's sales growth. From a market perspective, Yum faces its fiercest competition in the U.S. This is due in large part to the fact that the U.S. market is extremely saturated with QSRs. Overseas, Yum has a very strong position and plans to expand its already very successful international division into continental Europe, Russia and India.
Opportunities
A rising middle class across the globe provides excellent expansion opportunities for Yum brands. The company has a sizeable presence in high growth markets like Mexico, South Africa, Poland and Egypt, and a sizeable presence in India. The brand is well established in certain developed economies like Canada, Europe, Australia and Japan.
Bright Future
Considering the various factors of its business, expansion plans and market scope, Yum would be an ideal buy for investors from a long-term investment perspective. It will definitely yield strong ROI for long-term investors.
Disclosure: I have no positions in any stocks mentioned, and no plans to initiate any positions within the next 72 hours.
Additional disclosure: Dear SeekingAlpha Followers:guruvix.com I encourage you to check out my live website for more reports! If you would live for me to review a company for trading, or investing, please let me know through private message!