*Subscribe to my RSS*
Company Summary
Intersil Corp. (NASDAQ:ISIL) is one of the leading providers of an innovative precision analog solution and power management. The company's products are used in some of the largest industrial & infrastructure, mobile-computing and high-end, technology consumer markets.
Management Changes
Intersil is currently making changes to its management. As part of the changes, Intersil appointed Richard Crowley as senior vice president and chief financial officer on Sept. 23. President and CEO Necip Sayiner said Crowley is "ideally suited to step into the CFO role and hit the ground running. His background driving corporate performance improvement initiatives and his track record developing and adhering to key business metrics directly aligns with the strategic efforts we have under way to build a world-class power management company."
In response to his appointment, Crowley said, "I'm excited about the opportunity in front of us at Intersil."
Crowley has served as CFO of various multinational semiconductor companies since 1998. He most recently worked at Integrated Device Technology (NYSE:IDT) as senior vice president and CFO, where he conducted a much needed restructuring and improved operating results. Before Integrated Device Technology, he had management roles at Micrel, Vantis Corp. and National Semiconductor Corp. Crowley's ideals and qualifications will promote a healthy business and set the company up for an impending growth.
Current Growth

Intersil has shown improved business growth in recent quarters compared to previous years. It reported increased EPS in the first quarter of 2013 to 0.01992 from -0.02622 in 2012. EPS continued to rise in Q2, to 0.00788 from -0.11366. The slight improvement shows growing fundamentals. Current P/E is estimated at 23.5, with a PEG of 1.45, which indicates that opportunities may be arise in the near future.
More impressive is Intersil's 2013 compounded annual growth rate (OTCPK:CAGR). Intersil is performing far more consistently than more popular choice Intel Corp. (NASDAQ:INTC). Compared to companies with similar capitalization, it is outperforming almost the entire industry. Comparable broad line semiconductor business Silicon Image Inc. (SMIG) is struggling in comparison to Intersil but has a comparable CAGR to Intel, which demonstrates that Intersil is exceeding the performance of comparable companies in the same sector. Intersil's current CAGR is 37.65%, and 36.18% YTD. These are impressive statistics for a business that was practically unheard of until 2013.
Current Activity
Intersil has had some impressive development this year. It is performing at a rapid rate, which should produce buyer awareness for investors. The company's performance has not been rated on available insider ratings since April 25, though Stifel Nicolaus, who rates it a buy, raised his target price to $14 from $13 on Sept. 11
Intersil recently published information on ISL85415, a versatile 500mA synchronous buck regulator featuring wide input voltage range, integrated synchronous FETs and internal compensation, which allows regulators to accommodate wide-range input voltages to prevent switching regulators. The product, which has been released in 4mm x 3mm DFN packaging with prices starting at about $1.45 each per 1,000-piece unit, will be targeted at consumers in the communication and industrial markets. It has also released a full-featured evaluation kit (ISL85415EVALIZ) and a low-cost demo board (ISL854LSDEMO1Z), respectively priced at $72.00 and $20.00.
Future Growth
Intersil has had weak overall fundamentals for the past five years, although the company has increased quarter EPS quarterly performance YoY in 2013 by 109.1%. EPS growth in 2014 is estimated at 12.5%, though I believe this to be low due to current management changes and product availability. Intersil performance per quarter averages 46.09%. If Intersil continues this trend, it will make for an undervalued yet extensive short-term options play. The company has shown growth in revenue over the past two quarters to 144.834 in Q2 from 131.724 in Q1 -- not highly significant but still an improvement.
Conclusion and Recommendations
I believe Nicolaus to be correct in his most recent rating posted on Bezinga. The company is showing improvement in both fundamentals and yearly performance. If you are looking for a slightly riskier asset to add to your portfolio, Intersil would be a perfect choice. Value investing is about finding the gems in the rough, and Intersil is a gem just waiting to be discovered.
I suggest a sell-to-open $9.00 strike with an April 14 put. The second week of April 2014 is when options will become available for Intersil, and the trade shows promise. Purchasing this position will allow you to purchase Intersil at $9.00 per share. One benefit is that you will also obtain a premium around $0.40, creating an estimated value of $8.60 per share. This is the perfect alternative to buying current shares at $10.83 and provides about a 17% discount to the current trading value. Should the options expire worthless, you would return 4.45% COC (cash on commitment), which would be about 7.44% annualized.
On the call side of the options chain, you can purchase $11.00 strikes, which are currently priced at about $0.85 and represents a 2% premium. If you were to purchase current shares at a value of about $10.85, you could also sell to open $11.00 contracts as a covered call. With the premium, you would obtain excluding dividends that would produce a 9.41% premium if the stock is called in April 2014 at expiration. Should the contracts expire worthless, you would obtain a 7.85% increase in revenue, which translates to about 13.15% annualized. With current risk value being 30.54% of shares remaining at the current price, the direction of the stock from now through April is heavily reliant on the coming release of fundamental factors. I recommend both positions and believe the ability for short-term growth on one contract side will provide sufficient ROI while collecting a premium on the other will increase your overall yield boost.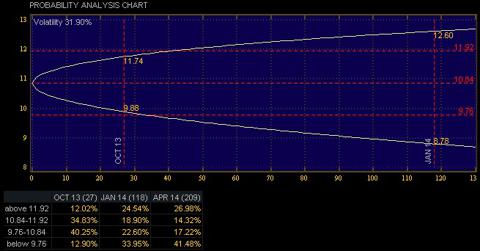 Disclosure: I have no positions in any stocks mentioned, but may initiate a long position in ISIL over the next 72 hours.
Additional disclosure: ****Check out my site, GuruVIX.com - Also check out the rest of my premium articles!! If you are interested in having me do an options report, investing report, or a report on any company, please let me know!