Top Gainers for 10/1/13 : EDG (Subscribe to RSS)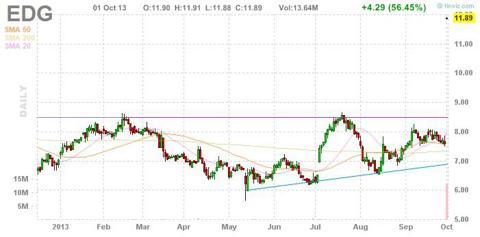 Recent IPO: EDG - Edgen Group has had a recent article on Seeking Alpha
"Based in Baton Rouge, Louisiana, Edgen Group (proposed EDG) scheduled a $225 million IPO with a market capitalization of $353 million at a price range mid-point of $15 for Friday, April 27, 2012. [S-1] Manager, Joint Managers: Jefferies; Morgan Stanley; Citigroup."
Check Out NeWorld Volatility Research most recent article on Eli Lilly and Company (NYSE:LLY)
Disclosure: I have no positions in any stocks mentioned, and no plans to initiate any positions within the next 72 hours.
Additional disclosure: Check out GuruVIX.com - Our any of my latest articles: If you would like me to write a review, please feel free to message me and I will write one for you!