Summary
Shares of German-based Fresenius Medical Care AG & Co KGAA (NYSE:FMS). rose by $0.38 to at $32.76 on Oct. 1. The company trades American Depository Receipts (ADRs) on the New York Stock Exchange under the ticker symbol "FMS."
The company's stock has been trading 6.5% above its 52-week low of $30.75 and 16% below its high of $39.10, which makes it appear to be undervalued and poised for huge upside growth. The company, through its affiliate company Fresenius Helios, has inked a deal with rival European healthcare provider Rhoen-Klinikum AG to purchase 43 hospitals in Germany for $4.01B. The acquisition, when completed, is projected to add about $7.45B in annual sales. The company on Oct. 30 will announce Q3 earnings, which are estimated to be about $0.45 per share.
The company trades American Depository Receipts (ADRs) on the New York Stock Exchange under ticker symbol "FMS."
Background
Fresenius Medical Care AG & Co. is a Hamburg-based company that provides kidney dialysis services both through its own clinics and by agreement with other kidney dialysis service providers. The company has two core business sectors, international and North America. Its North American business operates under two groups, Renal Therapy Group and Fresenius Medical Services International. The company's international group has operations in Europe, Latin America and Asia.
The company has a market cap of $40.31B, with 1.23B shares outstanding, 2% (or 24.6M shares) of which are institutionally owned.
Key Takeaways
The company - which has a quick asset ratio of 1.12, a debt-equity ratio of 1.53 and lower debt ratio of 0.60 - has traded consistently within the $30 range throughout 2013. Shares currently are down 4.5% percent YTD (see Figure 1).
Figure 1: Historic Performance Chart for FMS (October 2012 - September 2013)
(14-Day Free Trial)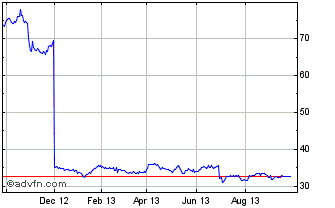 Source: Historical FMS chart - 1 Year, Retrieved from (September 29, 2013)
The company posted revenue of $3.6B in the quarter ending June 30, up 5.4% Y/Y and 4.3% Q/Q. The stock's β, or volatility relative to the market, is 0.56 and it is trading at an earnings ratio (P/E) of 39.61.
Concerns
The purchase of the 43 hospitals from Rhoen-Klinikum AG resulted in an immediate charge, which the company hopes to make up based on its pro forma revenue projections and made Fresenius the dominant healthcare group in Europe. However, this could lead to a decrease in its revenue as the company fully integrates its acquisition and tries to reap the benefits of the purchase. Analysts rate Fresenius Medical Care as a "buy."
Conclusion
The coming earnings release should shed light on the stock's growth potential, which appears to be on the upside as the company realizes revenue from its recent acquisition. If the company properly manages the integration of the 43 hospitals into its healthcare system, the stock could prove to be a welcome addition to any investment portfolio.
Disclosure: I have no positions in any stocks mentioned, and no plans to initiate any positions within the next 72 hours.
Additional disclosure: GuruVIX.com