CA Technologies Rated "Top Dividend Stock of Nasdaq 100"
CA Technologies Inc. (NYSE:CA), which provides software solutions that allow customers to secure and manage IT environments, has been rated as the "Top Dividend Stock of Nasdaq 100" by Dividend Channel. The channel's reasoning behind this evaluation is the combination of strong profitability and decent evaluation that the company has shown in the recent past. This is supported by the company's share price of $29.25 (at the time of the Dividend Channel's announcement), which means the company has a P/B ratio of 2.3. Additionally, it has an annual dividend yield of 3.4%. This compares favorably to other Nasdaq 100 stocks, which have a price-to-book ratio of 3.9 and yield of just 2.4%.
However, it should be kept in mind that the Dividend Channel list is made up largely of IT and tech companies, and it is different from others in that it also lists companies that are not based in the U.S.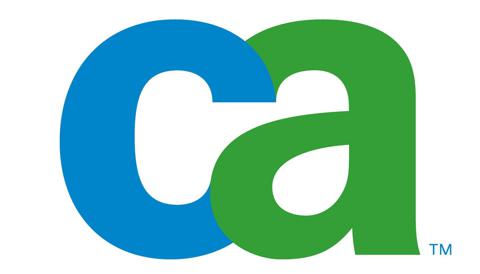 The state of CA Technologies right now
CA Technologies has a high quarterly divided payment history (see chart below) and this, coupled with its multiyear growth rate, was factored in by the Dividend Channel when it praised CA Technologies. The current annualized dividend paid by the firm is $1.00 per share, paid in quarterly installments.
CA stock rose 0.43%, closing at $30.71, with 4.52 million company shares having been traded, compared to 2.55 million shares of average trade volume. CA share prices have risen 39.72% this year. The company has 455.63 million outstanding shares and has a market capitalization of $13.39 billion.
Suggestion Options for May 2014
In other news, new options with an expiration date of May 2014 have become available to investors. These give around 233 days for the potential buyer, and appear to be lucrative investment options since options with a longer expiry provide a greater chance for the sellers of calls and puts to achieve a higher premium. Sell-to-open "covered" call, should be of particular interest to investors, according to the Stock Option Channel,.
Among the call options, the $31 call option with a current bid price of $1.06 is particularly interesting. Assuming that an investor bought shares at the current level of $30.45 per share, and then proceeded to sell-to-open this call contract as a "covered call," he would have to commit to selling the stock at $31. This would lead to a 7.06% total return if the stock is called at the May 2014 expiration, since the seller would also receive the premium. Things could get even better if CA share prices rise quickly, and for this one needs to refer to the company's 12-month trading history.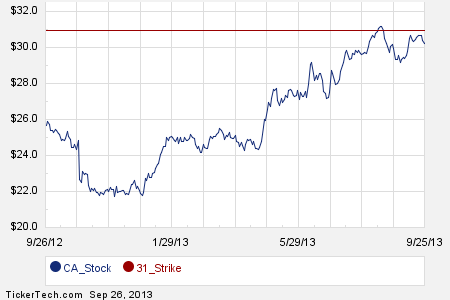 Since the call option mentioned above represents a 2% premium on the current trading price of the stock, there is a possibility that the covered call contract would expire worthless. Stock Options Channel calculates that the chances of this happening are about 54%. If it does happen, investors would keep both the shares and the premium, leading to an annualized effective yield of 8.23%.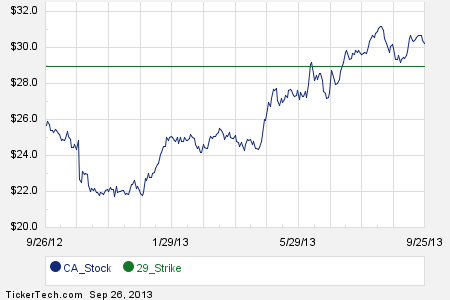 The Investor's Choice
With CA Technologies' stock flying high and new options coming up, this would be an excellent time to buy into the stock. If one already has CA stock, it would be wise to hold onto it for the time being. I would recommend a long position or "covered call" on CA Technologies'.

Disclosure: I have no positions in any stocks mentioned, and no plans to initiate any positions within the next 72 hours.