Hospitalists are a large and growing subspecialty of internal medicine clinicians that act as primary care providers for patients within a hospital or post-acute setting, such as a nursing home, inpatient rehab facility, or long-term acute care hospital. Acute-care hospitals (such as HCA (NYSE:HCA), Community Health (NYSE:CYH), Tenet (NYSE:THC), HMA (NYSE:HMA), and LifePoint (NASDAQ:LPNT)) and post-acute care providers (such as Kindred (NYSE:KND), HealthSouth (NYSE:HLS), the Ensign Group (NASDAQ:ENSG), and Skilled Health (NYSE:SKH)) are increasingly employing hospitalists or hiring professional hospitalist practice providers, such as IPC The Hospitalist Company (NASDAQ:IPCM), to manage inpatients and residents.
The increase in the use of hospitalists is driven by studies which have shown that hospitalists reduce the average length of stay and bring down costs within a hospital. The post-acute hospitalist is a relatively new subspecialty, though it is growing quickly, as post-acute providers are increasingly working to prevent hospital readmissions through better management of its residents.
Hospitalists traditionally have been comprised of internal medicine physicians. However, these primary care physicians are increasingly in short supply. According to the Association of American Medical Colleges, the United States currently has a shortage of 9,000 primary care physicians. With the expansion of insurance coverage under the Patient Protection and Affordable Care Act, that figure is expected to grow to 65,800 by 2025. The situation is similarly bleak for seniors seeking specialized geriatric care, with a shortage of 10,100 geriatricians today; a figure that will grow as 10,000 baby boomers hit retirement age per day between now and 2030.
With high demand and limited supply for hospitalists, companies such as IPC the Hospitalist Company, the largest dedicated provider of hospitalist services in the country, have grown significantly. Indeed, the main challenge to IPCM's future growth lies in hiring more hospitalists.
Enter Nurse Practitioners
The shortage in internal medicine physicians has resulted in expanded use of nurse practitioners (NPs) in the primary care setting and in hospitalist roles. At IPCM, physician extenders (made up of NPs and physicians' assistants) make up 26% of the company's total clinical employee base, according to the company's 2012 10-K. These physician extenders comprise ~10% of employed acute-care hospitalists and ~50% of employed post-acute hospitalists.
While nurse practitioners are trained to evaluate patients, diagnose, order and interpret tests, manage treatments, and even prescribe medication, currently only 17 states and the District of Columbia allow NPs to work at the peak of their training without the supervision of physicians. In these 17 states, NPs are able to see patients autonomously, significantly increasing the supply of primary care services and hospitalists - a combination that benefits hospitals, post-acute providers, and hospitalist companies.
(click to enlarge)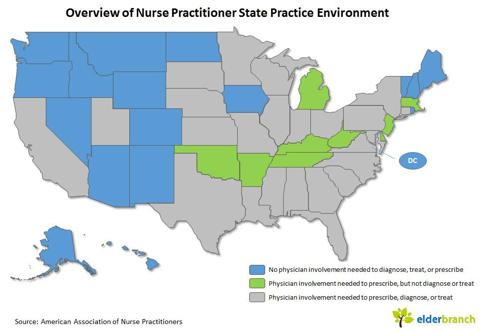 Click to enlarge
Driven by a large and growing body of evidence that suggests nurses practitioners provide care that is at least comparable to the quality of services provided by physicians, governments are beginning to realize that NPs could provide a quick and relatively inexpensive solution to the growing shortage of internal medicine physicians.
In 2010, the Institute of Medicine (IOM) recommended that Congress and the Department of Health and Human Services remove barriers limiting the ability of NPs to practice to the full extent of their education and training. In late 2012, the National Governor's Association followed suit, suggesting that "to better meet the nation's current and growing need for primary care providers, states may want to consider easing their scope of practice restrictions and modifying their reimbursement policies to encourage greater NP involvement in the provision of primary care."
Nurse Practitioner Regulations Continue to Evolve
Across the country, efforts are underway to ease these so-called "scope of practice" laws and allow NPs to practice to the full extent of their education and training. According to the National Conference of State Legislatures, 178 proposals to expand the types of services that 22 different health care professions, including NPs, can offer have been considered in 2013 as of April 1st. Of particular note, Massachusetts, Michigan, Pennsylvania, New York, New Jersey, and Nebraska are currently considering laws that would give NPs total independence.
While predicting how state legislatures will rule on any one bill is impossible, the current and growing shortage of primary care physicians and geriatricians will ultimately necessitate that state and federal regulators make changes to ensure that access to care meets the increased demand associated with expanded insurance coverage and a larger geriatric population.
Most legislative proposals to increase primary care services to date have focused on increasing the number of residency slots or implementing loan forgiveness programs for primary care physicians. While these are important and potentially effective proposals, an alternative and evidence-based approach, that is also more cost effective, would be to remove scope of practice laws for nurse practitioners nationwide. Given the large body of evidence that shows NPs can provide high quality care, such a change would represent a true win/win situation for patients, taxpayers, and companies that employ hospitalists, including HCA, CYH, THC, HMA, LPNT, KND, HLS, ENSG, SKH, and IPCM.
In fact, an increase in autonomy for NPs could drive a step-change in growth for IPC The Hospitalist Company.
Disclosure: I am long HCA, LPNT. I wrote this article myself, and it expresses my own opinions. I am not receiving compensation for it. I have no business relationship with any company whose stock is mentioned in this article.