As 2012 drags toward a close, I'm looking at a modest 6% level of outperformance for the year to date, hardly consistent with the risk assumed. Using a screener, I've developed a number of strategies that backtest well, and involve less risk than what I usually do.
A portfolio of low beta, high quality dividend payers would have done extremely well over the past ten years. An article on the screen collected a lot of page views, and a fine stream of comment and discussion. That leaves me with a decision to make: should I change basic strategy, or continue with my normal approach, which hasn't been working?
This article is about using a screener to backtest a simulation of my basic investment style, in an effort to develop an opinion as to whether I should continue with it.
High Beta Fundamental Value Investing
Looking back at over ten years of investing, I've always looked for value in the sense of low multiples on common metrics, primarily P/E and P/B, or the similar P/CF and P/TanB. For whatever reason, I have a history of favoring high volatility, reflected in an average beta well above 1 for my portfolio. Here's a screen:
In S&P 500
Beta > 1
Long term debt < 50% of Capital
Rank by (PtanB*1.5)+(P/CF), select best (lowest) 30
Rebalance every 3 months
Taking the maximum period available for the back-test, from 1/2/1999 to the present, this portfolio returns 10.3% annually, with a maximum drawdown of 69% and alpha of 7.7%. Risk and reward are in balance, and there's nothing wrong with doing it like that if you can stomach the volatility.
Here's the rub: this same approach, backtested from 4/1/2011 to the present, returns -10.3%, annualized, and provides alpha of -17.5%. My results for both time frames are similar, so the screen is useful as a general description and model of how I invest my discretionary portfolio.
How Fast Does It Snap Back?
This approach is not designed to track the market, and it will underperform from time to time. Here's a chart of its relative 1 and 2 year performance against the S&P: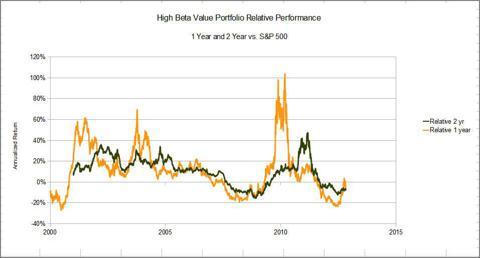 Periods of outperformance and underperformance alternate, with underperformance lasting for 2 years or more. Just looking at the chart, the relative 1 year performance has been rising, and if it maintains its trajectory and reaches previous highs of 40% or better, good things will happen.
The going up will be worth the coming down.