Today I added a position in WalMart (NYSE:WMT) to the synthetic Dividend Growth portfolio. A number of holdings, such as MicroChip (NASDAQ:MCHP), Lorillard (NYSE:LO), Texas Instruments (NYSE:TXN) and Raytheon (NYSE:RTN) have advanced to where the spreads are deep in the money and provide little market exposure.
Going to Portfolio123 I ran the screener that advances candidates for consideration and started going through the prospects. WalMart is undervalued by my methods and trading well below its historical average P/E per FASTgraphs.
Using S&P projections for the current and one future year, plus 3 years historical earnings, projected 5 year average EPS works out to $4.97. Applying a multiple of 20 for a high quality stable value stock, I get a target price of $99, compared to today's price in the $77 area. There is room for capital appreciation, and the dividend yield is 2.44%.
Using a 15 year view, here is the chart from FASTgraphs: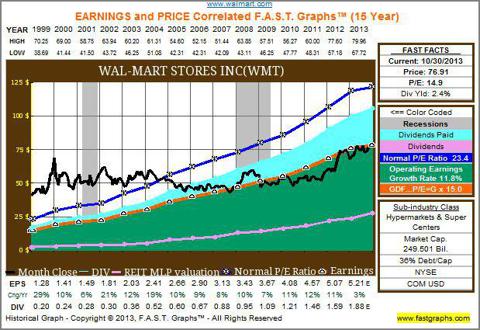 The stock has fallen out of favor recently, and is not commanding its previous multiples. At the current P/E of 14.9 the investor gets a dividend that is likely to increase and a stable value investment that may eventually trade at a higher multiple.
It's a Dividend Champion per David Fish's list, with a 38 year streak.
I think it makes a good long-term holding and is not over-valued even in today's heated market.
Disclosure: I am long WMT.