Since the financial crisis, I've used NIPA Corporate Profits as an indicator for the future value of the S&P 500 (NYSEARCA:SPY), with good results. This approach made me optimistic back in 2009 and has served me well over the past five years.
Here's a chart:
(click to enlarge)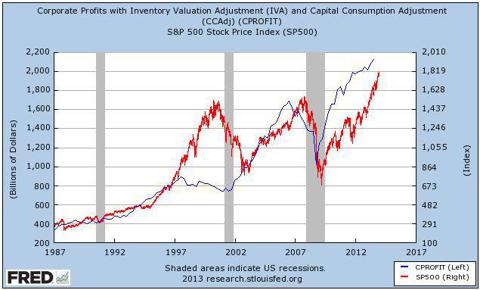 Click to enlarge
Other than the obvious over-valuation of the S&P 500 during the tech bubble, the two series have moved fairly close together. Over the last two cycles, Corporate Profits headed down before the market did, by a year or so, and during the recent recovery they have surged ahead of the index.
Using a scatter plot, it's possible to develop a formula for the relationship:
(click to enlarge)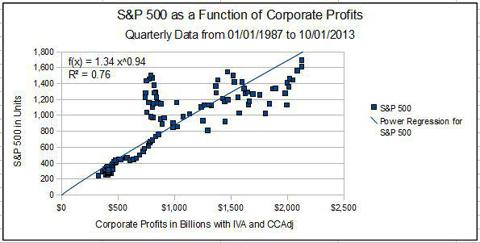 Click to enlarge
Applying the regression formula to the most recent data (2,126.6 for Corporate Profits with IVA and CCAdj), the indicated level for the S&P is 1,813, very close to where it is today. We're right where we should be, by this line of thinking.
Investment Implications
Corporate Profits as a percentage of GDP are as high as they've ever been. John Hussman and Jeremy Grantham have been calling for them to revert to the mean, which has yet to occur.
I've looked at the issue several times, and my best guess is that margins will decline, but not to historical averages. There has been a secular change in the balance of power in favor of management and capital over labor, and that is unlikely to completely reverse. To the extent it does, it will be a positive for the economy. Consumer spending is 70% of GDP, and if they have more money to spend it will push the recovery into 2nd gear.
The ownership of good quality, fairly valued equities makes sense here. Those who did not fully participate in the banner year 2013 (myself included) will do well not to chase at current levels. A 10% correction would be nice, just to restore a sense of reality and normalcy.
Disclosure: I am long SPY.