Back in June last year, I wrote up an options trade for Webster Financial (NYSE:WBS), including a brief analysis of the regional bank's prospects and describing a diagonal call spread. It was one of four such trades I have done on this situation. Here's a summary of how I made out:
(click to enlarge)

The stock itself is not all that exciting, but starting from a relatively low share price in September 2009 diagonal call spreads have worked out well.
I checked the latest earnings report and conference call, and the situation continues to develop favorably, with increasing tangible book value per share and some progress being made in reducing the efficiency ratio to a goal of 60%. With tangible book value as of 3/31/2012 at $15.10 per share, and estimating an 11% return on tangible book, earnings would be $1.66. Applying a P/E of 15, I develop a target price of $25 by the end of the year.
Today I made the trade shown in the following analysis of possible outcomes:
(click to enlarge)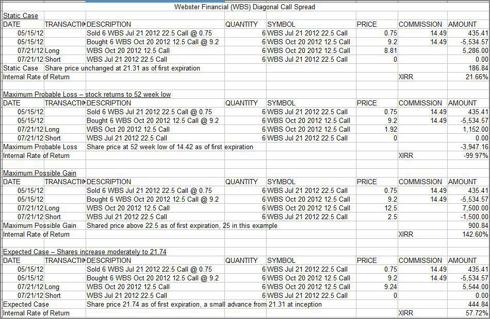 The static and expected cases both return a reasonable profit. The soft point of the trade is that the maximum probable loss is quite a bit bigger than the maximum possible gain. However, tangible book value at $15.10 provides a margin of safety here, and I'm prepared to hold the position if it moves against me.
Thinly Traded Options
Options here are thinly traded, with very high bid/ask spreads, especially on the deep in the money calls. However, over the years I've been trading this situation, it has been possible to get what I regard as fair prices. Implied volatility at 43.26% (per CBOE) is high enough to make the sale of the 22.5 calls attractive.
My experience with thinly traded options has been mixed. Sometimes it's possible to get very profitable trades, where you have to ask yourself, why would anybody take the other side of this? The main drawback is that it may not be possible to get good pricing when an adjustment is needed, and it may not be possible to exit on favorable terms if the investor wants to get out of the trade.
At this point the amount invested in doing the trade over again is less than the accumulated earnings, so I figure I will keep doing what has been working.
Disclosure: I am long WBS.
Additional disclosure: Diagonal Spread as described in the article.