Good Morning,
Long time user of SA, first time poster.
Not a typical investment post, but when a $350Billion market cap company (NASDAQ:GOOG) changes its only product and the interface customers use 100 Billion times a month, it does have implications to its competitiveness, strategy and value.
I am re-posting our blog on the new GOOG Search Engine Response Page (SERP) we have seen in Santa Barbara as they are either testing or rolling out.
You can see its bias to mobile with the desktop changes, their tactics to drive more clicks via elimination of distinctions with organic results, and in general a more modern look.
Hope the post is ok for the investor audience focus on SA.
------the post-------
In the midst of a presentation today, we pulled up Google on our flat panel display to make a point, and Voila - there is was.
A brand NEW SERP page design.
We immediately noticed (as did the entire meeting as everyone started checking on their laptops and mobile devices). Google appears to be in the process on implementing a new design. We investigated across different browsers (Chrome, Firefox), logged in and out of Google and Google+, and sure enough, a new design was there on our Google Search Results. Notably, the new design only showed up on 2/3 of our group, leading us to conclude we were either being tested or in the early stages of a rollout..
We will share what we saw, our view of the importance and our generally favorable impressions.
BIG CHANGES
Comparison of the two SERPs is below. The new design is a very clean, modern design with many aesthetic changes (we consider improvements). New font, kerning, spacing. Movement away from pure black to dark grey text, elimination of the underline and more style enhancements really updating the look. Most remarkably the yellow shade on mainline ads is GONE. Replaced by the orange Ad box, as previously seen on mobile.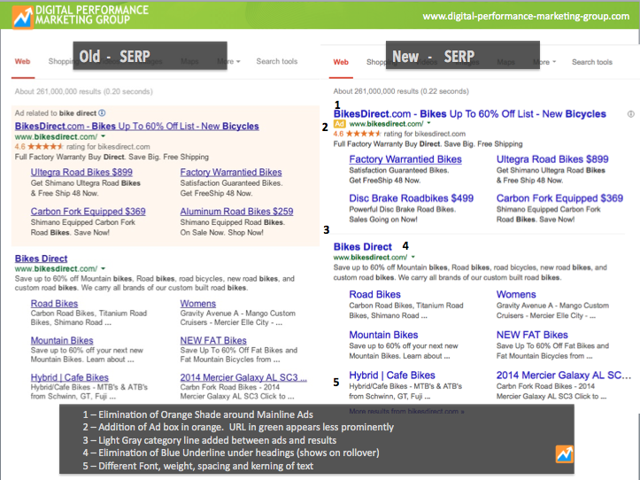 IS IT AN AD....
The distinction and clarity of a paid result is slowly starting to disappear. No more shaded area. The right column ads look more elegant to us, with higher readability. The Product Listing Ads (PLAs) are also very strong now, relatively bigger and more prominent. The core branding on the PLAs is not surprisingly Google, with the retailer's brands subjugated down at least a notch. Company listing information is also more substantial in size and information, demonstrating higher weighting to Google+, and incentives to brands accordingly. All told, we expect the mainline ads and PLAs to greatly benefit from these style changes, as both look more trusted, definitive, dare we say..organic.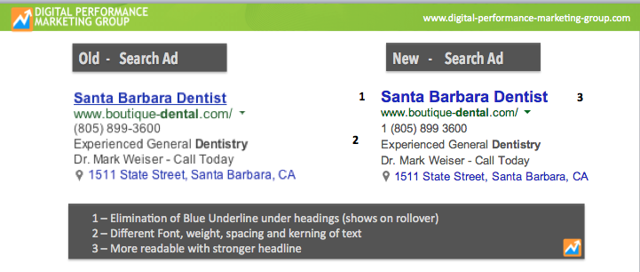 MOBILE MATTERS
The new SERP looks very similar to the SERP on mobile. Makes sense. One user experience, one brand experience across all devices. With 1/3 of all searches being done on Mobile, Google smartly consolidation user experience to be device independent.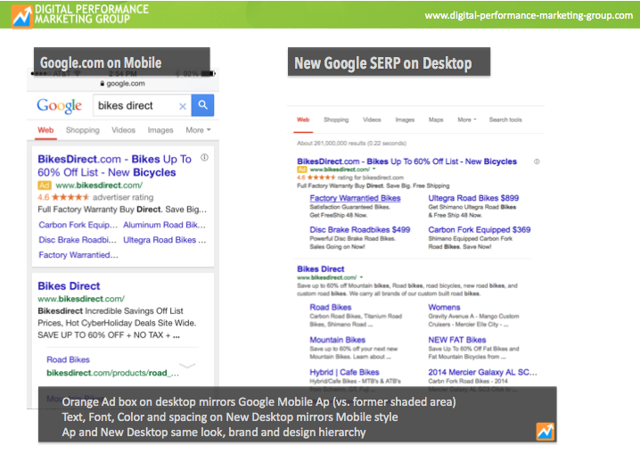 ARE WE CRAZY?
The screen shots don't lie. See for yourself.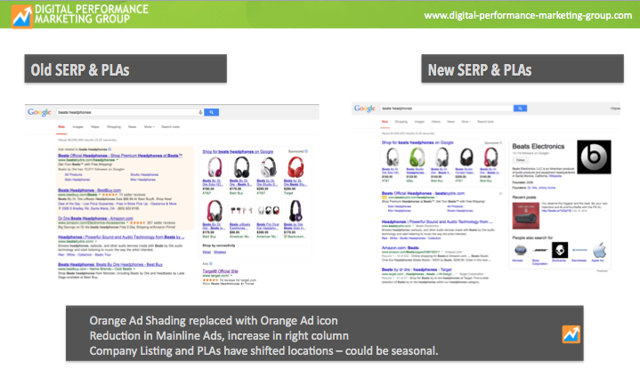 BOTTOM LINE Or BLURRED LINE.
Big fan of the more modern, less cluttered design - I did NOT say Apple-esque... :-)
It is sharp, organized and a thoughtful evolution forward. Google SERP real estate is incredibly valuable. These presentation changes are absolutely about extracting more value from ads.
Google seems to be blurring the line between information and ads, which can be either devious or brilliant depending on your persuasion. Notwithstanding, if it is rolled out, we think the users will like the new design (especially through their actions), Ad clicks/revenue will increase and Google relative importance in the market will continue to grow.
Disclosure: I am long GOOG.