On 11/11/2012 there was an announcement that RoseWater joins Queen's University on Energy Storage Study "... to conduct a study to evaluate the impact of a widely-distributed energy storage system backed by RoseWater's Residential Energy Storage Hub on an electrical grid". "... The results of the study, which is already underway, will greatly benefit all companies and individuals involved in energy supply, distribution and consumption, including policy makers, regulators, electric utilities, and storage systems manufacturers". Other information makes it worth a read. Look under the November 2012 releases if you come late to the party.
On 11/7/2012 Axion Announces Date Of Its Third Quarter 2012 Earnings Release, Conference Call And Webcast, which details release of results before-market 11/15/2012 and a conference call at 11:00 am ET. Interested parties should call 877-317-6789 (domestic) or 412-317-6789 (international), to access the call. You can listen to the conference call live via the Internet. Bangwhiz will be hosting a concentrator for questions for the conference call. Watch the comments section for a link.
On 10/18, our own Mr Investor posted the results of a communication with Viridity Energy that was good news confirming that the FERC Order 755 implementation by PJM had occurred and resulted in an update to Viridity's web site. It essentially confirms Tom Granville's statement that pay for performance would see substantial increases, which should make the Power Cube even more attractive to prospective customers. It's worth reading the thread following Mr. Investors comment as some reviews of prior Axion conference calls regarding the percentage increases refresh the information we had in hand.
John Petersen's participation as a presenter at the 13th European Lead Battery Conference, ELBC, has provided additional benefits: he has posted, a brief instablog that identifies slides with information and data he'd not seen before and considers important in Axion's presentation, "Axion PbC Lead-Carbon Hybrid Battery/Supercapacitor ,Operational Stability of PbC Batteries and Battery Systems", to which he has provided a link.
John did a bang-up job on his presentation, in our opinion, and has graciously permitted us to link to a SlideRocket Version of his presentation. It is highly recommended that you take the time, around 20 minutes, to view this if you've not seen it. It is not focused on Axion, but presents some opportunities and challenges facing the LA battery industry at-large.
---------------------------------------------------------------------------
John Petersen has provided price and volume charts updated through 11/9/2012.
(click to enlarge)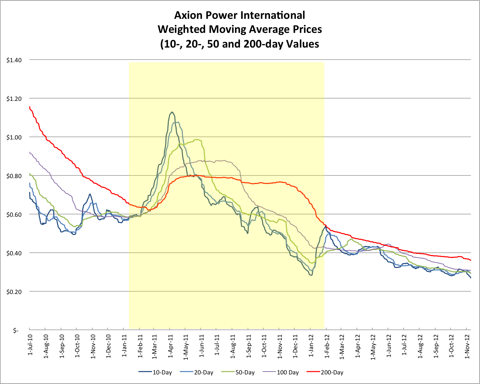 Click to enlarge
(click to enlarge)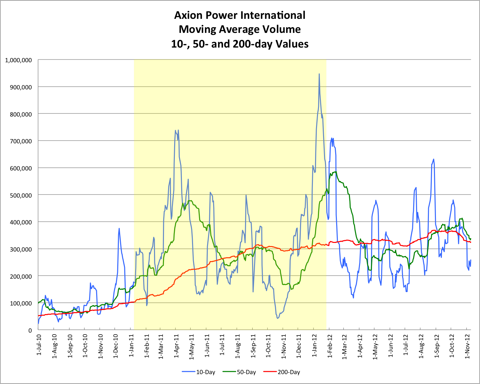 Click to enlarge
---------------------------------------------------------------------------
John's Petersen's tracking of the APC comment activity has been updated through 11/9/2012. Up to 34,465 comments now.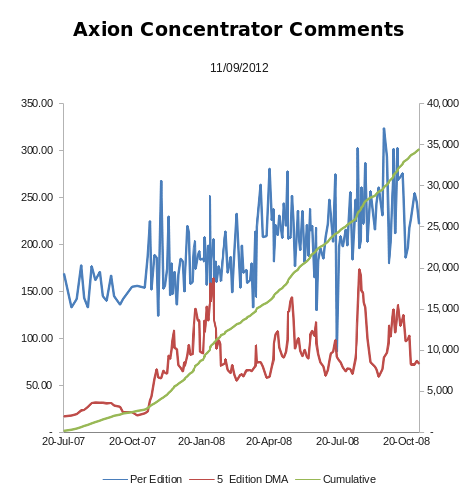 ---------------------------------------------------------------------------
Links to valuable Axion Power research and websites:
The Axion Power Concentrator Web Sites, created by APC commentator Bangwhiz. It is a complete easy-to-use online archive of all the information contained in the entire Axion Power Concentrator series from day one, including reports, articles, comments and posted links.
Axion Power Wikispaces Web Site, created by APC commentator WDD. It is an excellent ongoing notebook aggregation of Axion Power facts.
Axion Power Website. The first place any prospective investor should go and thoroughly explore with all SEC filings and investor presentations as well as past and present Press Releases.
Axion Power Intra-day Statistics. HTL tracks and charts AXPW's intra-day statistics.
--------------------------------------------------------------------
Be sure and either follow the Axion Power Host ID on Seeking Alpha or click the check-box labeled "track new comments on this article" just ahead of the comments section!
--------------------------------------------------------------------
WARNING: This is a troll free zone. We reserve the right to eliminate posts, or posters that are disruptive.
Enjoy!
Disclosure: I am long AXPW.