Earlier today my article "My Mad Method: Battle of the Oil & Gas Titans" was published here on Seeking Alpha. Some of the first comments asked why I had not included Total SA (NYSE:TOT) or Eni, S.p.A (NYSE:E) in the analysis of major Western oil companies. My apologies to all; I am not an expert in oil and gas, and frankly was not aware of these companies from France and Italy, respectively.
So, per my offer in the Comments section of the article, I've re-done the analysis to include these two companies. The result is that my watchlist is now made up of 35 companies, which will change some of the MyMM valuations. Also, I've updated all of the data for the companies on my watchlist with the most recent data as of the close of the market today, July 25th, 2012.
Here is how these 8 Oil Titans now scored using the 17 metrics from My Mad Method: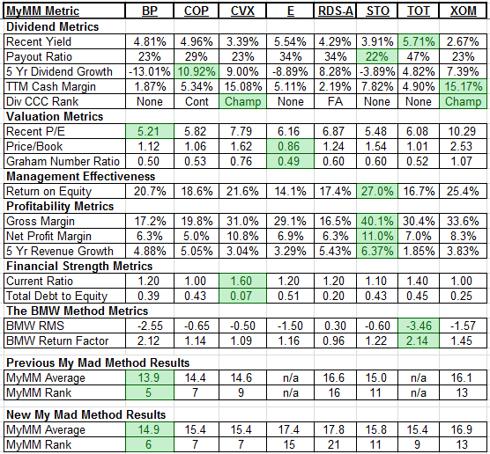 BP still comes in first numerically, but CVX has moved up into a tie with COP, and RDS-A has actually dropped down quite a bit in the overall ranking out of the 35 companies on the watchlist.
Here is the pricing and 52 week high/low data, similar to what was in the original article:
I don't know why TOT's price has taken such a hit in the past 12 months, but given that it has the highest yield and scored the best in terms of The BMW Method numbers, and is in essentially a dead heat with COP and CVX, this makes TOT a very attractive option, indeed, IMHO. One thing to consider, however, is that there would be foreign tax taken out of any dividends from TOT, as would also be the case for BP, E, RDS-A and STO.
On the other hand, with a slight increase in its share price today, XOM has slipped into "Screaming!" territory, making it that must less attractive (at least to me) to potentially acquire. If its price slips down a bit further, I think XOM, and all of these companies, actually, are fine choices in the energy sector.
Once again, I apologize for the omission of TOT and E from the original article, and hope that you find this additional information helpful.
Disclosure: I have no positions in any stocks mentioned, and no plans to initiate any positions within the next 72 hours.
Additional disclosure: I am not a professional investment advisor or financial analyst; I'm just a guy who likes to crunch numbers and can make an Excel spreadsheet do pretty much whatever I want it to do, and I'm doing my best to manage my own portfolio. This article is in no way an endorsement of any of the stocks discussed in it, and as always, you need to do your own research and due diligence before you decide to trade any securities or other products.