Microsoft is a classic example of a beloved company that ran into a .com bubble. Back then, valuations were detached from the fundamentals as expectations of future earnings exceeded any rational limits.
Almost 15 years later, we are looking at the opposite scenario. Time did its job well. Weak stock performance, combined with persistent profitability and the steady growth of the business, created a convincing value case out of Microsoft. Nevertheless, Microsoft seems to be hated by many due to the years of lackluster performance.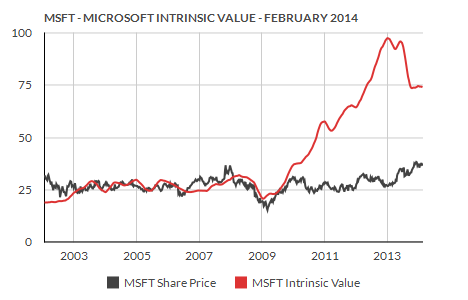 We see the intrinsic value of the stock being as high as $75 share, making it one of the most attractive value plays out there. We are on the same page with Don Yacktman, a prominent value investor who also acknowledged the attractive value characteristics of Microsoft in one of his interview.
Disclosure: I am long MSFT.