The Aussie dollar initially spiked higher on news that the German high court green-lighted a European bailout fund, but ended the day around where it was trading prior to that news, albeit in positive territory. The AUDUSD over the last week also reaffirmed its status among Western markets where bad economic data is seen as bullish because of the prospects for supportive government action, i.e.: the Keynesian Dividend. The low tick in the AUDUSD at 1.0166 last Wednesday night was posted just moments after Australia reported its job growth dropped to -8,800 for August. Remember the June U.S. non-farm payroll number? It came in nearly 100K less than expected and the Aussie pairs posted the year's low on that same day, while U.S. stocks bottomed the following Monday.
Despite the sizable rally in AUDUSD over the last five sessions, the day to day pattern remains lower, which is to say this market has retraced only a portion of the August sell-off. A couple of closes above approximately 1.0470 would shift that important pattern back higher. We've been on hold with the Aussie since mid-August when we decided to forego further potential gains because of the risk of being long in the 1.04 handle, when 1.01 or 1.00 gives us a much more attractive risk reward. While we see the Aussie as having several bullish patterns aligned as seen by the series of higher lows on its Daily and Weekly charts - see Daily Chart in Figure 1 - we also can't help but notice the pattern of lower highs. What this means is the Aussie pairs move from being markets where we look to buy dips, to markets where we look to buy dips, and sell rallies, i.e.: we now view the Aussie pairs as counter-trending markets.
The Aussie like most financial markets should give us a clearer picture following Thursday's U.S. Federal Reserve's FOMC meeting.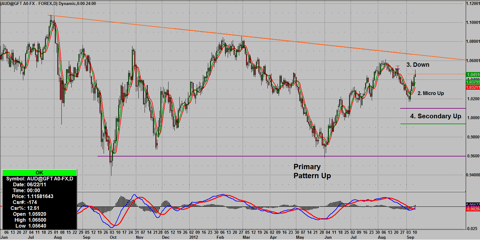 Figure 1.
While it was easy to make a case that the German court's decision to support a European bailout fund was already priced into the market, particularly after the Euro's recent sharp gains, not only did price jump 50+ pips higher on the news, but also held those gains. And while we felt that beyond 1.28 was a bit of a stretch last week, we now see the door open to 1.30. While the Euro may be seeing some new bids, we suspect the bulk of the current buying binge is short covering on behalf of Wall Street hedge funds. The big question is are those hedge fund losses in short Euro being offset by long gold positions? For all the buying in le Euro short-term the all-important Secondary Pattern is still lower - see Figure 1 --leading us to believe that the best approach is patience. We'll be shopping for sell set-ups around 1.30, in-line with the Primary and Secondary Patterns, but as always with an open-mind, and attention to risk.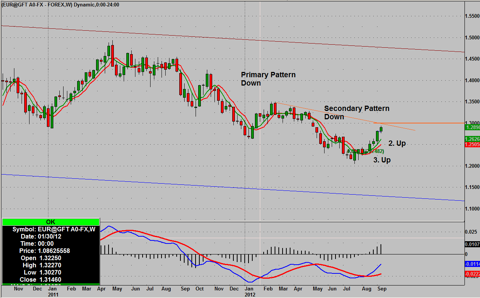 Figure 2.
To see Jay point out trade set-ups and signals in live markets every Monday and Friday for FREE on the London/U.S. overlap go to: Live Market Analysis
For the video version of our Mid-Week Forecast go to: Video Report 9-13
Trading is a risky endeavor and not suitable for all investors!
Disclosure: I have no positions in any stocks mentioned, and no plans to initiate any positions within the next 72 hours.