When we look at our Risk Tolerance Threshold Ratio for gold - below -we see that even when we count the Grand Pattern, which we do not consider a "tradable" pattern because it is so long-term - call it an investment pattern - we have the majority of patterns down. It is ominous that the most influential pattern from the trader's perspective - the Day to Day Pattern - has remained stubbornly lower since early November.
Gold Futures Jan, 4th, 2013
M Grand Up
W Primary Up
W S-primary Down
D Secondary Up 1620
240 Day to Day Down
60 Micro Down
15 Micro Down
Our 2013 thesis for commodities is a return to two-way trade, which our Risk Tolerance Threshold Ratio for Gold and the weekly chart confirm by way of a lower high in 2012 to the all time high in 2011 - see Figure 1.
(click to enlarge)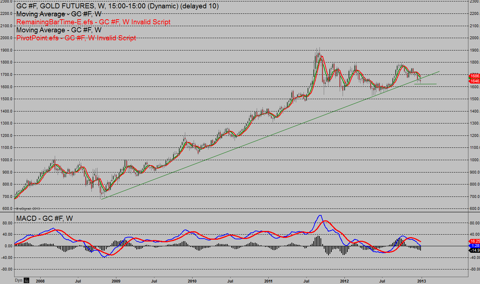 Click to enlarge
Figure 1. Weekly Gold Chart
What this means for gold investors is more patience. What this means for traders and investors, who wish to add gold, again patience, and buying weakness, i.e.: going against the grain for trend traders. If the 1,620 level does not hold we would look for a sweep of the 1,500 level to knock out long-term holders and set-up the next intermediate-term bull leg.
Jay Norris is the Director of Education at Trading University. To see Jay highlight trade set-ups and signals in live markets go to: Live Market Analysis
Trading is a risky endeavor and not suitable for all investors!
Disclosure: I have no positions in any stocks mentioned, and no plans to initiate any positions within the next 72 hours.