Whatever it was that had been troubling gold prices in the 4th quarter of 2012 looks to have passed as gold shifted its longer-term micro pattern higher overnight to now shift the majority of its tradeable patterns higher - see Figure 1. Support from the secondary pattern just above 1620 held in early January and after a struggle here at the 1690 level gold has now given us 2 closes above that level on the 4-hour chart. Just because resistance at 1690 is breaking down does not mean we run out and buy gold, but it does make dip buying more attractive.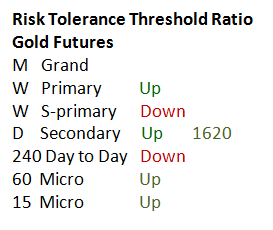 Figure 1. Risk Tolerance Threshold Ratio for Gold
We see resistance from the powerful Day to Day Pattern just above 1710 and again at 1740.
The bottom line is we have the green light for buying dips and otherwise focusing on buy set-ups and signals in Gold.
Subscribe to receive free e-mailed market updates at: Market Analysis by Trading-U.com
Trading involves risk of loss and is not suitable for all investors!