The 1650 level in gold is worth watching for a potential intermediate-term buy set-up - see Figure 1. Likewise any type of bottoming formation -- double bottom or head & shoulders bottom -- just above that level needs to be monitored. Gold has seen its share of long capitulation over the last quarter, particularly from hedge fund redemption's, which in many cases owe more to losses in other markets - i.e.: short stock, currency, and securities positions --than from the correction in gold. I view the 20% correction seen from 2011 thru 2012 as a healthy occurrence which likely sets this market up for a move back up to the top of the 2012 range at 1800.
Back to current prices, several closes on the 4-hour chart below 1650 would be cause to back off in favor of a retest of 1625-20. We recommend stop orders for both traders and investors.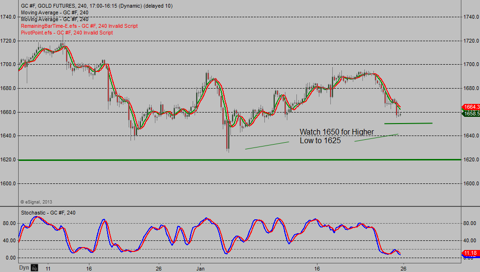 Figure 1.
While I'm no gold bug - as an investment it has no yield or dividend -- it is however widely held and accumulated by pensions and sovereign funds because it is accepted as an asset class market. It is also becoming a favorite option for U.S. 401K account holders, even for the younger generations, which from my perspective is the most powerful component of a bull thesis. Even in the face of a strong stock-market and steady U.S. economy negative stories in the financial press still outnumber positive ones by a wide margin, which supports the perception that gold is a hedge for "hard times". This belief only bolsters bids beneath the market.
There will always be investors willing to buy price dips in gold, which has proven dangerous when the "dip" was only 5% or 10% from that 1900 top. Buying price dips 15% or even 20% from the top however seems more viable. Once gold does turn higher, we can likely count on a regular bid from both institutions and individual investors in their retirement accounts, which makes for an attractive trading vehicle, and more important a good investment.
The threat to the upside in gold right now would be an economic contraction in China which spills across Asia and Australia. Should that occur we would initially look for a move below 1500 which would, because of increased demand at lower price levels, likely prove short lived. None the less we would have to reevaluate on successive closes below 1500.
While gold may not go up or down for the same reasons so many gold bugs think, from a trading or investment standpoint that does not matter. The only thing that matters is the percent gain or loss in your account at the end of the quarter, or year.
Jay Norris is a Market Strategist at www.EosTrade.com. To see Jay point out trade set-ups and signals in live markets go to: Live Market Analysis
Trading is a risky endeavor and is not suitable for all investors!
Disclosure: I have no positions in any stocks mentioned, and no plans to initiate any positions within the next 72 hours.