Despite the Dec/Jan rally in crude oil the Primary Pattern is lower -- see chart below. By staying below the $100 per barrel mark this market maintained its current pattern of lower highs going back to February of 2012. Crude is also currently vulnerable to a correction lower as it faces supplier hedging pressure coming out of a mild winter in the northern hemisphere. We also see potential weakness on the horizon if global trade fails to match 2012 levels of growth. The Australian Dollar with its healthy carry trade and AAA rated banking system is a reliable proxy for the global economy and the current weakness in this currency could be a harbinger of a correction lower for world equity markets. Should stock indices see a secondary correction lower it will almost assuredly take crude oil lower also.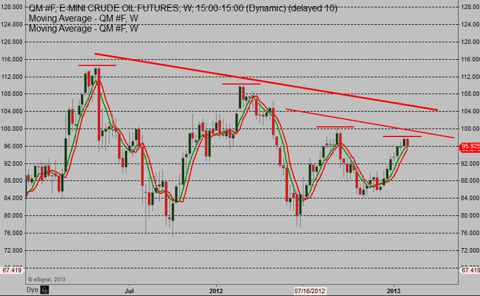 The threat to the upside in a word: Iran.
Jay Norris is the author of Mastering Trade Selection and Management, McGraw-Hill, 2011, and a Senior Market Strategist at EosTrade.com. To see Jay highlight trade set-ups and signals in live markets go to: Live Market Analysis
Trading involves risk of loss and is not suitable for most investors
Disclosure: I have no positions in any stocks mentioned, and no plans to initiate any positions within the next 72 hours.