Follow up to 3-6 Master's Class
As you know we've been studying volume at price to assist us in confirming trade set-ups and signals and it is proving very helpful. The chart attached illustrates. The sell set-up in the Euro - on the right -- was much more attractive because the volume peak at the same level as the bottom our sell zone. While the sell set-up in the Aussie on the left was a good one, it was not as attractive given the lower levels of volume which had traded at that price previously. Also notice on the Aussie chart on the left how the peak volume level stopped today's sell off. Volume stops trend.
(click to enlarge)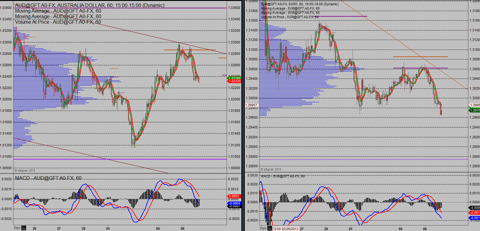 Click to enlarge
Figure 1.
I will be adding a section on Volume at Price to the Graduate course shortly. I can say that to date using VatP as a filter for our trade set-ups has cut the loss probability nicely.
If you need the volume at price app for MT4 let me know and I can e-mail it to you.
See you in class next Tuesday - and have a great weekend!
Jay Norris is the author of "The Secret to Trading..." and host of Live Market Analysis
Disclosure: I have no positions in any stocks mentioned, and no plans to initiate any positions within the next 72 hours.