Logic plays a key role in verifying a trading method, and using a simple flow chart to gauge a trading method before wasting time demo trading or forward testing it is definitely a step we need to take on the road to improving our trading, or learning a new trading tactic. Many professionals today are familiar with flow charts and the value of logic, but flow charts also provide a more simplified way for trading educators to teach trading tactics compared to verbally explaining the how and why of trading. A flow-chart can bring students along even faster than seeing live market demonstrations, and are proving helpful in allowing individuals to learn how to benchmark trading methods quicker.
Flow charts have the added benefit of helping to weed out sub-par trading methods. While a glib sales person can sound plenty confident and convincing, if they can't show us a simple flowchart of what they teach to back up the superlatives than we probably better put their ideas on how to help us on hold.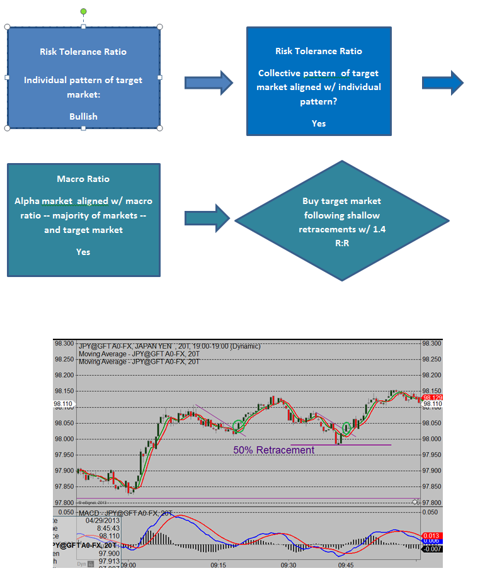 Figure 1.
Figure 1 highlights a simple flow chart of a method that combines higher time frame confirmation for an individual market, along with confirmation from macro environmental conditions.
While we still need to spend time learning each step of the process, we find students grasp the concepts much quicker when they can see the ease of decision making - either yes or no -and envision the destination ahead of time. While there is no substitute for demonstrations to point out trade set-ups and signals in live markets and that critical interactive support that goes with that venue, by getting flow charts into the students hands ahead of time the steep learning curve of trading is eased further.
Jay Norris is the author of The Secret to Trading: Risk Tolerance Threshold Theory. To see Jay highlight trade set-ups and signals in live markets go to Live Market Analysis.
Trading is a risky endeavor and not suitable for all investors.