In trading and investing it's a good idea to occasionally take "scope" of the environment you're operating in. By taking scope we mean pan out and take a good look at the big picture. The monthly chart in Figure 1 is an example of taking such a wide range view of a market.
From a technical perspective we see a market exhibiting a very large double-top. From a financial standpoint we see that the Canadian Dollar has outperformed the U.S. Dollar significantly over the last 10-years.
The recent sell-off from 1.00 down to .95 however would seem justified given Canada's most recent GDP was just 0.1% compared to a U.S. GDP of 1.8%.
(click to enlarge)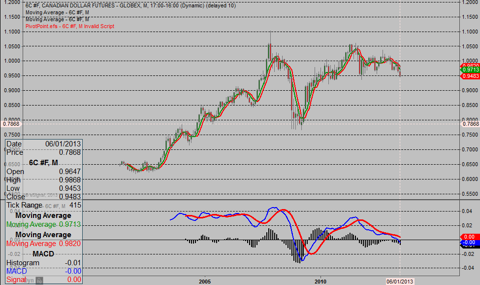 Click to enlarge
Figure 1. Monthly Chart of Canadian Dollar Front Month Futures Contract
Given the disparity in growth between the two nations is not something that is easily fixed over the course of months or even quarters, it seems likely that the Canadian currency will continue to lose ground to the U.S. Dollar.
We see two reasons for a continuation of the sell-off in the Loonie versus the Greenback. (The Canadian currency is affectionately called the Loonie in reference to the image of the loons on many Canadian coins and bills.) The first reason, U. S. energy independence, is already widely considered, the second however, U.S. health care is not. Under the coming changes from the American Affordable Care Act, a.k.a. Obamacare, the maximum amount people can be charged for health insurance will be capped at a percentage of their pay. For lower and middle income workers, this will mean an increase to their paychecks by as much as 5% and even higher in the case of larger families. Workers on the U.S. side of the Canadian border are going to be seeing larger pay checks in the coming year which will translate into continued consumer growth. We feel this will translate into a stronger U.S. Dollar and a break-down in the chart in Figure 1.
Jay Norris is the best selling author of The Secret to Trading: Risk Tolerance Threshold Theory. To see Jay highlight trade set-ups and signals every Thursday and Monday go to Live Market Analysis.
Trading involves risk of loss and is not suitable for all investors!
Disclosure: I am short FXC.