We show the majority of patterns down for EURUSD already, see Figure 1, which is bearish enough, but a close below 1.2975 will really open the door to further downside.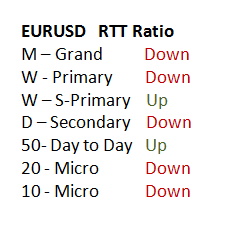 Figure 1.
With the current global economy stuck in low gear, and commodities having shifted from a bull to a bear, we see the most sensible macro play being long U.S. Dollars and that by default will mean a lower Euro. From a shorter-term perspective a close below 1.2975 for EURUSD will likely lead to a quick test of the 1.2600 level. Knowing currency market's penchants for big moves over U.S. holiday's we feel traders need to be on alert this week for a Euro plunge.
Jay Norris is the best selling author of The Secret to Trading: Risk Tolerance Threshold Theory.
Trading involves risk of loss and is not suitable for all investors!
Disclosure: I am short FXE.