11/8/2013
This week's price action in the yen brought us a little closer to an upside breakout in USDJPY and a downside breakout for yen futures. Given the theme in my fist post on the subject last month -- see below -- was "a picture is worth a 1,000 words", I will type no more.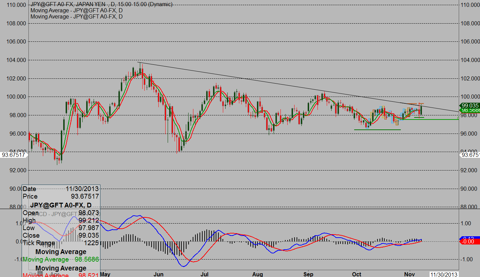 Daily USDJPY Chart for 11/8/2013
__________________________
11/16/2013
From my perspective -- I am a U.S. Dollar bull -- the answer to the question in the headline would be yes.
The nice thing about believing that the pattern on the chart is an accurate reflection of the underlying fundamentals is you do not have to worry so much that the next headline will sink your position. But whether the great pennant in the Yen futures breaks in the direction it was moving in when it created the wide base in the spring -- south --has yet to be determined. The bearish chart pattern -- Figure 1 -- is also supported by a bearish seasonal -- Figure 2. That being said, we must still go with a modest position, use stop loss orders. and be prepared to bend rather than be broken.
What also supports a breakout here is the shrinking volatility -- smaller and smaller ranges seen in the ATR indicator -- and shrinking volume.
A picture is indeed worth a 1,000 words so I will let these two graphs speak for themselves.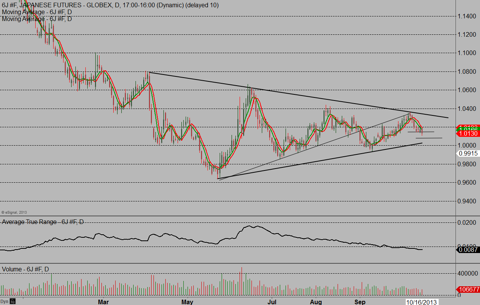 Figure 1. Yen Futures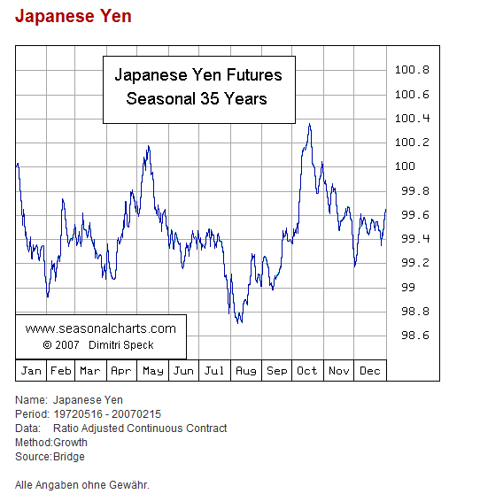 Figure 2.
Jay Norris is the author of "The Secret to Trading: Risk Tolerance Threshold Theory". To see Jay highlight trade set-ups and signals in live markets for free go to: Live Market Analysis
Disclosure: I am long UUP.