In 2006 I did not fully understand that markets have a tendency to often "reset" just prior to a large price move. I also did not know beans about corn but I did know that every commodity broker from Chicago to Dallas was telling their clients that corn was going to double in price. Now any time a broker tells you something that sounds too good to be true, it usually is. But here is the tricky part, it did come true. But most of those calls and long futures contracts that all those brokers had begged their clients to get into did not pay off.
(click to enlarge)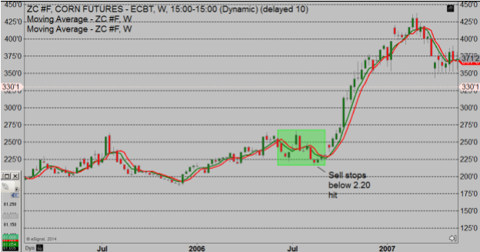 Click to enlarge
Figure 1. Corn Weekly Chart in 2006
The Sept '06 out-of-the-money calls expired worthless, and many of the long futures were stopped out below $2.20 when for no reason that an analyst could explain, corn turned south in July and early August and posted a lower low in the face of screaming bullish fundamentals. Once the public and half the trading pit's positions were stopped out, the corn was free to move higher.
Everybody knew it was going higher, and it did, yet most of the participants lost money…
(click to enlarge)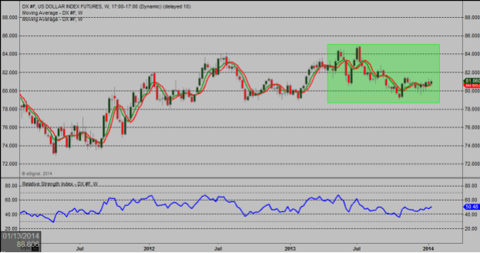 Click to enlarge
Figure 2. The U.S. Dollar Weekly Chart Today
I can't help but think of that market bottom in corn when looking at the U.S. Dollar today. Everybody thinks it's going higher, and it probably will.
The trick is to balance the risk now, and increase it once price accelerates beyond the 2013 highs. This is the opposite of what many investors do. They go in heavy at the perceived bottom and lighten up once they get the acceleration. This is human nature, which is the opposite of the nature of markets.
There is a priceless lesson in that corn chart for both investors and traders.
Jay Norris teaches at Trading University and wrote The Secret to Trading: Risk Tolerance Threshold Theory.
Trading involves risk of loss and is not suitable for all investors.
Disclosure: I am long UUP.