The Aussie is down sharply in May already, and shows a 3 month bearish pattern, but it is right on top of 100 which is a big psychological level, and the Aussie remains the carry pair of choice for global institutions/investors, meaning big money is always looking to buy dips. Our best guess is monitor 99.00 for buy-set-ups. Both the primary and secondary patters are higher. Keep in mind the Aussie is not in the U.S. Dollar Index so a strong dollar does not automatically mean a weak Aussie.
(click to enlarge)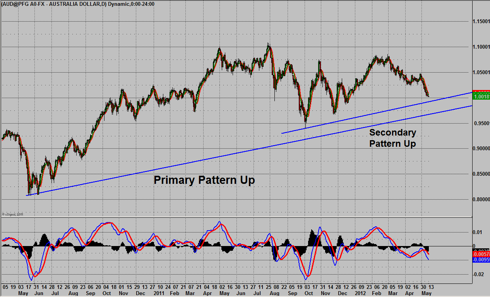 Figure 1. AUSUSD Daily Chart
If USDCAD gets just a little bit higher it can shift its secondary pattern higher, in-line with its primary pattern, which is already higher following last year's 3rd quarter rally. Monitor price dips for buy set-ups. USDCAD is a benefactor of dollar strength/risk, and a hedge for U.S. stock market weakness.
(click to enlarge)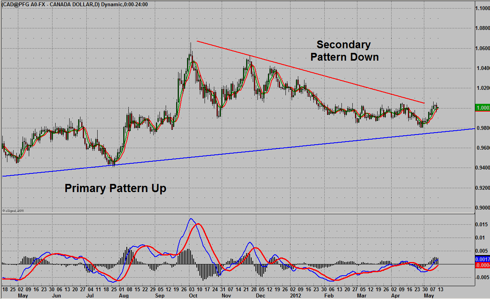 Figure 2. USDCAD Daily Chart
The Euro is in a bear market, with both the 1-year pattern, and 5-year patterns both lower. Momentum is down hard on the daily chart - Figure 3 - and the current seasonal for May and June is decidedly bearish. Europe is in deep trouble because its banks and borrowing are moribund and it's demographics nearly as bad. But its central bank is still respected, which can make selling break downs a dangerous proposition --the Euro get a lot of press lately for short squeezes. Up until now you had to sell rallies in this market, but that was before the 2nd week of May seasonal - see seasonalcharts.com. The bottom line fundamentally is a panic in the Euro only tightens the noose on the Continent, which is why central bankers are rumored to be supporting the currency. It's still a bear though. Keep in mind that the Euro comprises 60% of the U.S. Dollar Index, and in times of risk, money still flows to dollars. The Euro really doesn't stand a chance, and is likely about to make the U.S. dollar look very good in comparison. Our intermediate-term down-side target is 119.00.
(click to enlarge)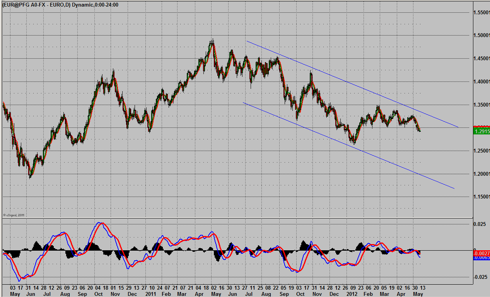 Figure 3. Bear Market in Euro
The GBPUSD doesn't look half-bad for a currency whose country is officially entering another recession. Short-term though the pattern is bearish. Momentum is lower on this daily chart in Figure 4 and price looks to be pointing at 157.00 or so which is our short-term target. The Pound won't benefit from a continued weak Euro into the summer. Both primary and secondary patterns however are higher so 157.00 - 156.50 needs to be monitored for a likely bounce.
(click to enlarge)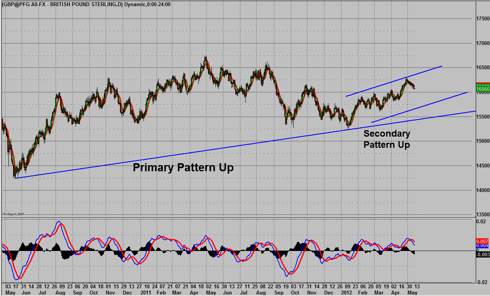 Figure 4. Daily GBPUSD Chart -- Not Half Bad for a Recession
What really makes the Daily Yen chart in Figure 5 look good is the 35-year seasonal chart in Figure 6 courtesy of Dimitri at seasonalcharts.com. From Mid-May thru early August the Yen futures chart is straight down, while USDDJPY goes straight up. If the seasonal holds and that current shorter-term bear pattern shifts inline with that longer-term bull pattern, USDJPY, fresh off a 25-year low has some room to run.
(click to enlarge)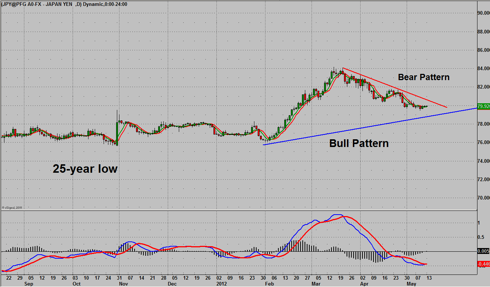 Figure 5. Daily USDJPY chart
(click to enlarge)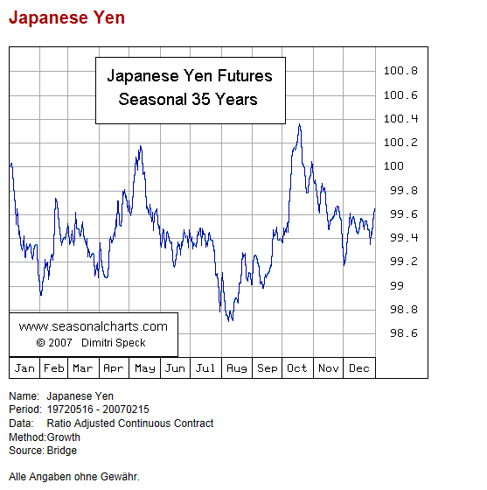 Figure 6. Yen Futures 35-year Seasonal
Trading involves risk of loss and is not suitable for all investors!
Disclosure: I have no positions in any stocks mentioned, and no plans to initiate any positions within the next 72 hours.