I had an interesting exchange with some traders last week which surprised me. I had just demonstrated how the markets were behaving very nicely Sunday night into Monday's session, producing pristine patterns right on predictable levels, and a trader attending the presentation, said that no, that markets lately were behaving very confused. He said that he agreed with many traders that the current trading environment is very poor. Then another trader joined in in agreement. This was confusing to me because I had just demonstrated the opposite, going so far as to show them how the long-term patterns were aligned in AUDUSD and how we had a nice counter-trend move lower though the Asian session followed by a trend set-up in the London session followed by a trend move up though the U.S. session - see chart. I went on to say that it's not how the markets are moving which is confusing, but how they view the markets. Of course by this time I wasn't making any points. Even if it's true, it's not a good idea to tell someone who is asking for directions that they need to get new eye glasses first. But the exchange did remind me how important having the proper methodology in place is.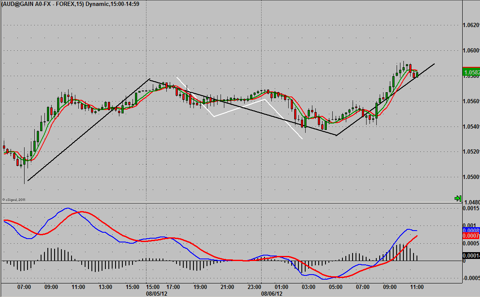 Nearly eight years ago the trader Bill Williams told me that if I wasn't following a method that took advantage of the scalability and the fractal nature of markets that I would not be around for long. He went on to tell me that the key to finding the method was very simple, in fact I already had it. But before that became apparent I had to change how I viewed not just the market, but everything. I had the good fortune of knowing Bill for a bit by the time he told me this, so I already knew how smart he was. I took what Bill said to heart, and started on the journey. It is a hard thing admitting how little one really knows, though having survived on a trading floor for over 20 years taught me a little bit about humility - every time I fell down there was someone there who understood the valuable experience in that to give me another chance. And luckily Bill had warned me how we all complicate things unnecessarily, so I knew to keep things simple.
Today I was reminded of how lucky I was to know Bill. And of the importance of understanding that if something isn't working right, we don't blame the market; we need to look to ourselves. Trading really is as simple as Bill always said, or to put it in his words: "The Holy Grail is: Want what the market wants". In other words don't try to predict what the market will do next, but go along with where the market takes you!
Jay Norris is the author of The Secret to Trading: Risk Tolerance Threshold Theory. To see Jay highlight trade set-ups and signals in live markets go to Live Market Analysis.
Trading involves risk of loss and is not suitable for all investors!
Disclosure: I have no positions in any stocks mentioned, and no plans to initiate any positions within the next 72 hours.