On October 17th, Banco Santander, S.A. (NYSE:SAN) will be officially changing the name of its Sovereign Bank branches in the US to Santander. While the branches are only located in the Northeast (New York, Boston, Philadelphia, etc.), this will improve brand recognition for the company. Santander is well known in Latin America and the UK. This move may help the company attract business from foreigners living in the US.
With over 700 branches, this move is pretty significant. Santander also said it will start a more aggressive ad campaign once the move is complete. Soverign/Santander rates on loan products and CD's are generally a tad better than banks like Chase, Wells Fargo, and Bank of America.
For those bullish on housing (particularly in the UK), Santander offers another area for potential growth. In 2011, Santander was the second largest mortgage lender in the UK. By the end of 2012, the company had dropped to fifth. This was due to the company reducing its mortgage book by £10bn. In September, the UK unit announced plans to stimulate mortgage lending by offering new fee-free mortgages and making TV advertisements.
The UK Government is pushing their "Help to Buy" mortgage scheme program aimed at helping borrowers buy property with lower down payments. The Government has set aside £12bn worth of guarantees to back up to £130bn in lending. While many of the bigger banks have yet to sign on to the program, I expect this to change as more details become revealed in the next few months.
I believe Santander's stock price has been unfairly beaten down since it's linked to Spain. However, a majority of its business comes from outside of Spain. On the bright side of being linked to Spain, the Spain ETF has acted well as of late. In the two charts below, you can see the pattern of SAN and EWP are similar.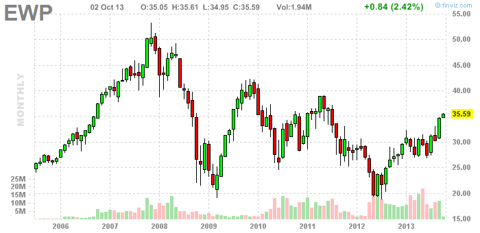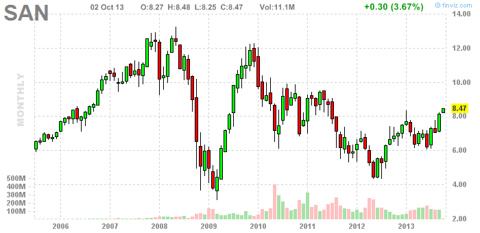 Please note that the SAN chart provided by this service seems to be off for the 2008 high price and at the end of 2009. However, you can clearly see the similar pattern. For those that love dividends, SAN is currently paying around %7.20 at these levels.
Longer term, I can see SAN moving to at least $12 challenging the 2011 highs. The stock has been on a tear as of late and I recommend initiating positions on any pullbacks.
Disclosure: I have no positions in any stocks mentioned, but may initiate a long position in SAN over the next 72 hours. I wrote this article myself, and it expresses my own opinions. I am not receiving compensation for it. I have no business relationship with any company whose stock is mentioned in this article.