During the last year, Apple (NASDAQ:AAPL) reached an all time high of $705 per share, valuing the company at more than $660 billion. Currently, the company trades at around $400 a share, for a market cap of $375 billion. Is the current price attractive?
Going back to 2011, the company was trading slightly below current prices but, in comparison with today, very different expectations were in place.
Back then, the iPhone was the smartphone to have and the iPad was clearly the only tablet worth considering. In this context, it was easy to get overexcited about the company and, given the constant innovation and the myth around Steve Jobs, it was easy to believe that Apple would always be in front of competition and growing. Adding people expectations and the unbelievable financial performance that the company was delivering, took the market cap from $300 billion to more than $600 billion in a year.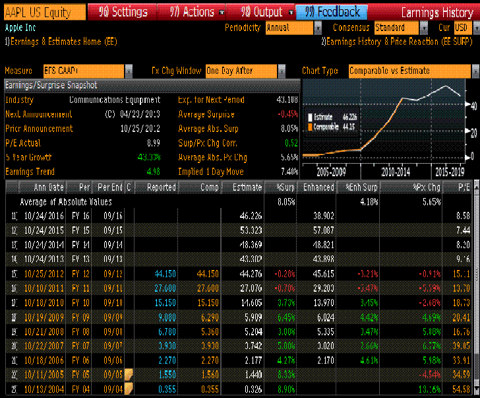 As we can see above, the performance has been unbelievable with the company earning $0.35 a share in 2004 and $44.15 in 2012. Not only the growth over the 8 year period is amazing, as it is the fact of, even with a higher base, the company almost tripled net income from $14 billion in 2012, to $41 billion in 2012.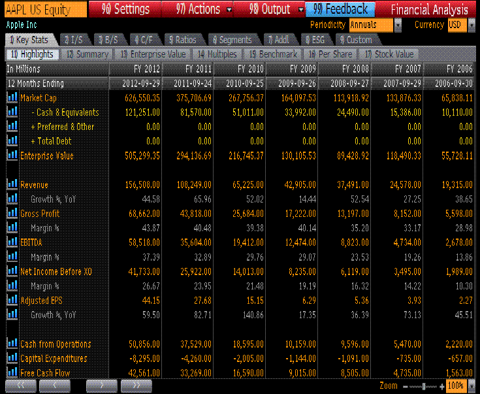 Amazing last 10 years aside, currently, the story is a bit different. The competition has been catching up strongly and it's not clear that the company will even continue to grow from current levels.
The iPhone used to do things that other smartphones either couldn't or were to slow and complicated to use. Now, any iPhone, BlackBerry Z10, Lumia 920 or any flagship Android does practically the same. The difference now, for the majority of consumers, is how each one looks (software and hardware).
Also, while a few years ago any tablet other than the iPad wasn't a possibility, today there are several Android tablets that compete directly with the iPad and, with Windows 8 tablets/hybrids, competition is only increasing.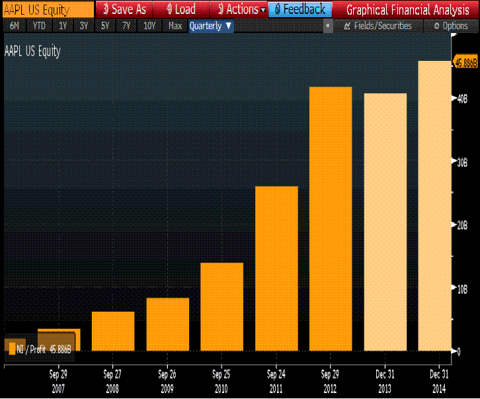 As we can see above, current expectations are becoming more reasonable, with the market now expecting a much lower growth rate from the 2012 level. With lower expectations and the current market cap, lets try to see if current prices are an investment opportunity.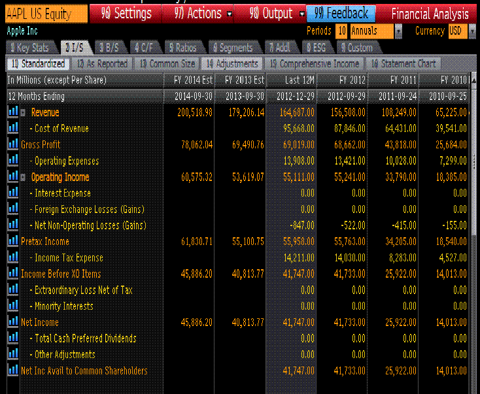 Again, if we look at the income statement, we can see how impressive the numbers have been. They are so impressive that there's nothing to more to say about them. Just one question: can Apple maintain this performance?
Lets look at the balance sheet to see if there are any red flags.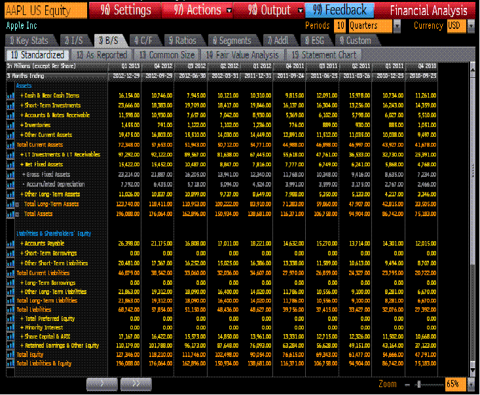 As we can see, a really healthy balance sheet.
But while the numbers above are great, it shows us the past of the company and, in order to decide if the current market price is attractive, we must compare not only the current price to the current shareholder equity, but also our expectations about future net income and the current market prices.
By paying $375 billion currently, an investor gets $127 billion in equity, no long term borrowings and more than $130 billion in cash and equivalents. Goodwill is marginal at slightly more than $1 billion and every quarter the company pays a $2.65 dividend. From a static point of view, the numbers are good but you are paying almost 3 times total equity so the question is just about future earnings.
Last years results were $41.7 billion. If the company maintains that level, it will take you less than 9 years to recover your investment (375/41.7), a pretty good deal for a company as healthy as Apple. Of course, if earnings grow, it will take you even less time, meaning that current prices would be an amazing opportunity. In the other hand, if something goes wrong in the next 9 years and net income falls, you could be stuck with your investment for a lot more years.
In the last few years, the company has taken advantage from the fact that it had virtually no competition, and unique and highly desirable products. Going forward, the market for smartphones and tablets is only growing but competition is here and it's serious. Of course there can be new product lines but there are now considerable more risks than in the past. For example, it's not clear what the impact of the cheaper iPhone will be. Will it increase volume at the expense of margins? Will it slowly destroy the sense of exclusivity that the iPhone currently have?
Also, the current iOS is becoming old. It has been improving year after year but history shows us that at some point evolution is not enough (Symbian; Blackberry previous OS). It's a very uncertain situation because in one way there is the need for something new but in the other, it faces the risk of consumers not liking the change.
I believe the current price is attractive only if current net income can at least be maintained. The profitability of the last few years has been perfect and very hard to maintain over a long period of time. By the above reasons there is already enough uncertainty so investing in the company at current prices can be risky. At the smallest mistake, your expected P/E of 9 can easily be a lot higher.
Disclosure: I have no positions in any stocks mentioned, and no plans to initiate any positions within the next 72 hours. I wrote this article myself, and it expresses my own opinions. I am not receiving compensation for it (other than from Seeking Alpha). I have no business relationship with any company whose stock is mentioned in this article.