(click to enlarge)

Click to enlarge
There's a great case that can be made for investing in Exchange Traded Funds (ETF's). Not only do they help investors diversify, reduce risk, increase liquidity, and carry low expense costs, but they also help save investors valuable time in doing research. However not all ETF's are created equal and an investor still needs to know what exactly s/he is investing in if they want to sleep at night. Take for example the emerging markets ETFs, ishares Brazil (NYSEARCA:EWZ) and ishares Indonesia (NYSEARCA:EIDO). Over the past 12-months each has underperformed significantly against the S&P500, falling 27% and 22% respectively while S&P500 has risen 20%. A closer inspection from these local markets shows that the Bovespa and the Jakarta Composite indexes are down significantly smaller amounts -16.8% and -2.2% over the past 52-week period. Therefore the question remains, do these investments represent a great buying opportunity, or are the underlying problems concerning the ETF weightings, of which both have their top 10 holdings that make up more than 50% of the entire fund, too big of an issue?
A Closer look at Ishares Brazil
EWZ consists of 80% equity, of which 30% is cyclical, 20.68% defensive, and 20% in sensitive sectors like communication services, energy, industrials, and technology. The remaining 20% is allocated into corporate bonds. From an individual holding breakdown 10% is in oil producer Petrobras (NYSE:PBR), 7% Ambev (ABV), 5.52% VALE (NYSE:VALE), 7.7% Itau Unibanco (NYSE:ITUB) and Banco Bradesco (NYSE:BBD) at 5.4%. In total, these five names make up 35.62% of the entire fund. Yet the large decline in the ETF can be pinpointed to the poor performance in shares of Petrobras and Vale which are down 27% and 24% over the past year respectively. The global route in commodities has led to a sharp reversal in these one must own names, and has stalled the BRIC block. Political instability has also exacerbated the problem as politicians and economists have failed time after time to dampen inflation and the necessary policy to spur growth the economy. Two bright spots are that wages have slowly increased and Brazil has one of the lowest unemployment rates in South America.
Is it "Safe" for investors to now buy into Brazil?
Despite the seemingly over reliance on a dozen names, the Brazilian ETF represents an attractive buying opportunity and risk reward ratio at current levels. Investors should buy EWZ if they are risk adverse and unsure about the direction of commodities. On the other hand if investors are more upbeat on global growth, Petrobras will surely increase in value, especially if oil remains above $100 a barrel. A recent rebound in shares of VALE can be attributed to a more fundamentally sound company as well as growth prospects. While EWZ should return to $55 by year end, my analysis suggests that Petrobras could be worth $19-$20 a share representing a 65%- 73% increase from current levels. This is contingent on continued restructuring of the balance sheet, a friendly foreign direct investment (NYSE:FDI) process to bring in oil partners, and the World Cup going off without a hitch, exciting investors for the Olympics. Fears about potential nationalization of the 49% stake that the government does not own in Petrobras are overblown and the repercussions of such a maneuver would surely shake the foundations of the investment community but the economy as well.
(click to enlarge)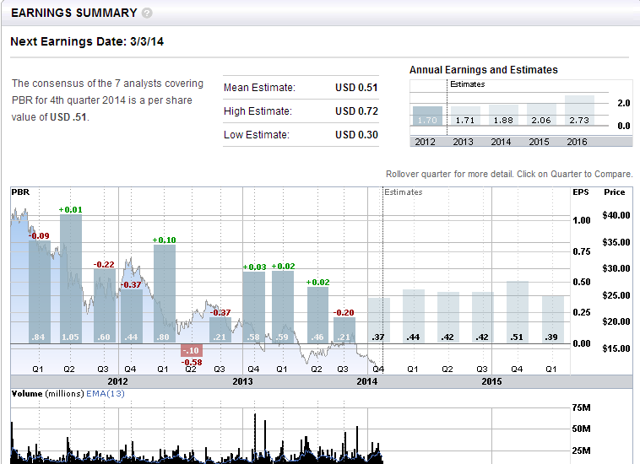 Click to enlarge
(click to enlarge)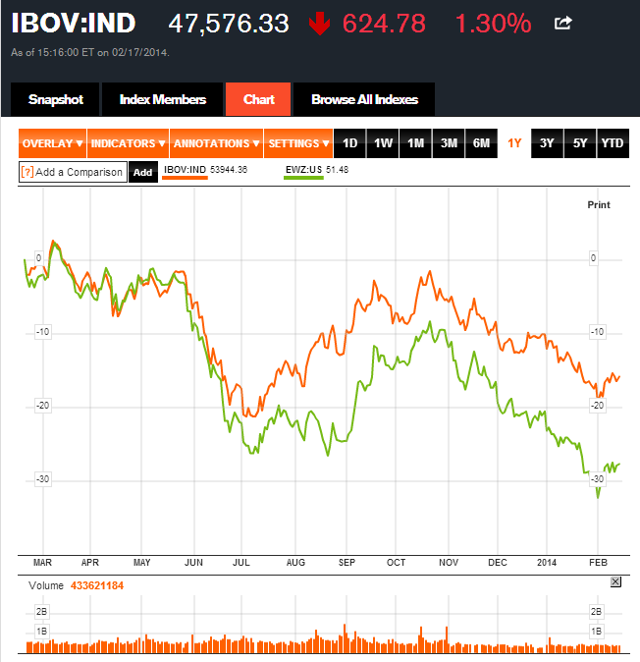 Click to enlarge
Disclosure: I have no positions in any stocks mentioned, and no plans to initiate any positions within the next 72 hours.