This year retail sales in China are expected to rise 15 percent year on year to over 17 trillion yuan ($2.58 trillion), amid plans to boost domestic demand, experts said Thursday.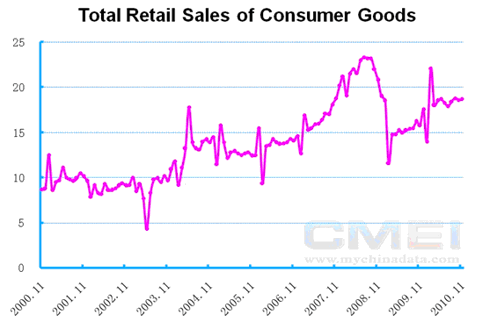 Li Heming, a researcher at the Distribution Productivity Promotion Center of China Commerce, made the forecast. Demand for motor vehicles, home appliances and travel will play a key role in Chinese domestic demand this year, analysts said.

Compared with last year, though, the growth rate may be slower, as it is not clear if consumption-promoting measures -- like tax cuts for automobiles and a trade-in program for home appliances -- which expired at the end of 2010 will continue.

Chinese Ministry of Commerce official Wang Xuanqing said the government will take steps to support the development of the nation's service industry. Analysts expect online shopping to maintain its extraordinary growth rate in 2011, after China's online shopping more than doubled in 2010. China's retail sales rose 18.4 percent year on year to 15.4554 trillion yuan in 2010, the National Bureau of Statistics (NBS) said Thursday.

Another view worthly to look at is from Andy Rothman from CLSA. Mr. Rothman shares his macro economic view of China in his Sinology report.
The most recent Sinology contains some good 2011 forecasts from Rothman and some interesting views on China that are worth sharing:
China's economy is expected to grow about 9.5 percent in 2011—about 5.5 percent of that coming from investment and the rest coming from consumption.
Infrastructure has accounted for one-third of total urban fixed asset investment over the past six years. The amount of projects scheduled and already underway should keep that pace in 2011.
Total rail expansion, which includes high-speed rails, should rise to 7,500 kilometers (km) this year, up from 5,000 km in 2010. Rail expansion is expected to peak at 10,000 km
Investment by manufacturing firms has accounted for roughly 30 percent of total fixed asset investment over the past six years and is expected to continue in 2011.
Investment by private firms outpaced that of the Chinese government for nine consecutive months through November 2010, accounting for 58 percent of all urban fixed asset investment.
Led by China's smaller cities, which house roughly 57 percent of China's urban population, housing sales rose 12-15 percent on a year-over-year basis in September, October and November.
Rising incomes, little household debt and a healthy consumer sentiment is expected to facilitate increased consumption. Consumption is expected to account for 42 percent of GDP growth in 2011.
These predictions hold up with a lot of major analysts who cover China, but of course there also some more critical positive research reports.

One of them is from Handelsbanken, Sweden.

http://research.handelsbanken.se/Attachments/14424/Chinese%20Macro%20Forecast%2013%20january%202011.pdf

As you can read a lot is going on in China, a lot of sectors can profit this year: from Travel ( Ctrip.com, Universal Travel Group) to Convenience Food (American Lorain)
Disclosure:
I have no positions in any stocks mentioned, and no plans to initiate any positions within the next 72 hours.