In my article "3 China Stocks For 2013" I was bullish about Cleantech Solutions (NASDAQ:CLNT) going forward. Looking to several fundamentals of the company, Cleantech was severely undervalued even when you take the "China Discount" of 30% in consideration.
Last Wednesday the company announced that it has become a certified supplier of components to China Petroleum and Chemical Corporation (Sinopec) and China National Petroleum Corporation (CNPC). This positive message was well received by the market. China's oil and natural gas industry is a new end market for the company, that is expected to contribute to Q3 revenues.
But does this news explain the surge in stock price? From $3.75 to a closing price of $9.67 on Wednesday. A profit of more than 158%.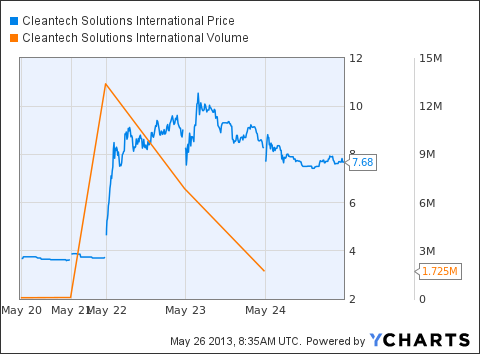 A reason for the spike in stock price could be related to the company's S-3 filing.
In order to sell common stocks and other securities, a company must register them with the Securities and Exchange Commission. The form you choose will depend on the size of the company as well as the type of securities you are registering. In this case, Cleantech was able to use the short form S-3, because the company's float is less than $75 million.
Cleantech's offering price of up to $5,000,000 could already be consummated last Wednesday.
Another plausible reason is just the fact that from a fundamental view the company is undervalued and until now recognized by the market.
The company's first quarter 2013 were good. Revenues increased 47.6% to $13.9 million, compared to $9.4 million for the same period of 2012. Revenue from the sale of forged rolled rings to the wind power industry and other industries increased 16.9% to $6.5 million, compared to $5.6 million. Gross profit increased with 66.3% to $3.1 million and gross margin increased to 22.5% from 20.0%.
The increase in gross margin for the first quarter was primarily attributable to:
the increased operational and cost efficiencies for forged rolled rings and related products segment, including the allocation of fixed costs primarily consisting of depreciation, to cost of revenues as the company operated at higher production levels in response to higher revenues, and
the significant portion of revenue for the dyeing and finishing equipment segment generated from the sale of airflow dyeing machinery, which generates a higher gross margin than the company's traditional dyeing machinery.
Net income was $1.6 million, or $0.56 per diluted share, compared to $0.3 million, or $0.12 per diluted share.
In 2013, the company expects their dyeing machine segment to continue to perform well. Cleantech mentioned that they have a number of new contracts in the pipeline. One of these contracts was officially announced last Wednesday. So we are curious which contracts have still to be announced.
Final Note
It is expected that the company's EPS 2013 will be above $2. With the current price of $7.68, there is still undervaluation left. Despite that we took some money from the table by selling our entire position and are looking now for a new entry price for the stock.
Cleantech Solutions is still a trader's playing ball and day traders use it to reap daily profits. We are still waiting if the company will be responsive to Geoinvesting's request of an independent verification of cash accounts and independent verification of the company's SAIC/SAT filings.
Despite that it offers great value below $10, only sometimes it's better to take profits and wait a little.
Disclosure: I have no positions in any stocks mentioned, but may initiate a long position in CLNT over the next 72 hours. I wrote this article myself, and it expresses my own opinions. I am not receiving compensation for it. I have no business relationship with any company whose stock is mentioned in this article.