One stock that's on my watchlist again is a company that I have been following for quite a long time in my past life. Unfortunately I lost faith and I sold out my position with a loss. Faith can come back, but I guess it takes time.
One of my first PREMIUM articles on Seeking Alpha titled The Long Case Of American Lorain describes the company in detail. A long time ago February 1, 2011.
A company, forgotten and despised, but suddenly on November 27 something showed up. A press release with the title American Lorain Corporation to Commence Product Sales in Family-Mart Japan.
More than one year of silence, no press releases, no conference calls only SEC filings and then suddenly something odd happens.
To celebrate this news I bought a small position. Speculative I guess, but if you don't have faith anymore you don't make profit.
Why the company was in the graveyard?
I think we have to go back to the beginning of last year. The biggest shareholder in American Lorain was Guerrilla Capital Management. A fund run by notorious fund manager Peter Siris.
Siris managed two New York-based funds that were heavily invested in US-listed Chinese small caps. The funds Guerrilla Capital and a related firm, Hua Mei 21st Century LLC., had about $160 million under management in 2010.
From 2007 to 2010, Siris and his firms sold unregistered securities and engaged in unregistered broker-dealer activity and illegal insider trading tied to China Yingxia International Inc., the SEC said in a complaint filed last year.
China Yingxia a was a nutritional health food business which entered the U.S. capital market through a reverse merger deal in 2006, according to court filings. The company collapsed in 2009 amid allegations that its China-based CEO had engaged in illegal fund- raising activities.
Additionally, Siris, who was regularly asked to participate in Chinese company securities offerings, engaged in insider trading involving other companies, including China Green Agriculture Inc. (NYSE:CGA), SmartHeat Inc. (NASDAQ:HEAT) and Puda Coal Inc. (OTC:PUDA).
Consequently, Siris is barred from associating with any broker, dealer, investment adviser, municipal securities dealer, municipal advisor, transfer agent, or nationally recognized statistical rating organization and from participating in an offering of penny stock.
All this criminal behavior had enormous impact on American Lorain because his Guerrilla Capital fund has been wind down and the fund's positions have been liquidated.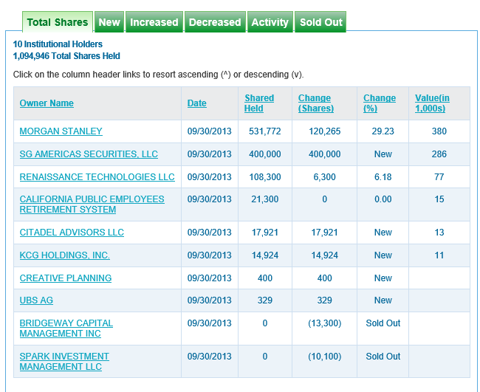 source: www.nasdaq.com
The interesting part is that Morgan Stanley seems to have faith and is building up a position.
But the question remains: Why the company didn't connect with the investment public?
Maybe it had to do something with the going private proposal the company received on October 15, 2012. It is a non-binding proposal but already pending for more than one year. Maybe he or management thought there is no need to inform investors anymore.
Personally I don't think CEO Mr. Si Chen is going to offer $1.60 per ordinary share in cash anymore, despite he already owns approximately 46.5% of the company's shares.
The stock trades at $0.75 and with current international expansion plans, read Japan, American Lorain will need to have new exposure. One of the best ways to get exposure is a listing on a stock exchange. Of course you could have negative exposure but also positive. Let's be positive and give the company the benefit of the doubt.
Valuation
With $1,36 in cash and a book value of $5.18 high risk investors have some margin of safety. Quarterly results were mixed but the first nine months American Lorain raked in $0.27. Diluted earnings per share this fiscal year could be more than $0.40, because Q4 is traditionally their strongest quarter. Basically we are looking at a company with a P/E ratio below 2.
Is this low valuation justified?
When you lost faith in humanity and don't believe anymore in Chinese companies I would say yes. My faith is coming back and that's why I bought a small position below $0.80.
Final Note
American Lorain Corporation (NYSEMKT:ALN) is a food manufacturer. The company's products include chestnut products, convenience food products and frozen food products. They currently sell over 240 products to 26 provinces and administrative regions in China as well as to 42 foreign countries.
The management of American Lorain has to show itself on a prudent way and explain the situation. You are Not Forgotten And Despised!
Disclosure: I am long ALN. I wrote this article myself, and it expresses my own opinions. I am not receiving compensation for it (other than from Seeking Alpha). I have no business relationship with any company whose stock is mentioned in this article.