A versatile and talented management team is a very important factor for building a great company, especially in the life science sector. I think Arch Therapeutics, Inc. (OTCQB:ARTH) provides a compelling opportunity for high-risk investors to profit from an emerging life science company that has the ability to execute.
A stock price of $0.21 doesn't tell you the whole story. The average volume for the last 3 months is relatively low at 197,784. But I think investors that are looking for a rather new company with an experienced management team, a great advisory board, and a promising lead product candidate may be interested in having a look at Arch Therapeutics.
The company transferred itself to a life science company from selling automobile spare parts online. On June 26, 2013, the current company saw the light and changed its operations to develop polymers containing synthetic peptides designed to form gel-like barriers over wounds to stop or control bleeding and seal wounds. This process is called hemostasis.
Description of Hemostasis
According to Wikipedia, hemostasis or haemostasis (from the Ancient Greek: αἱμόστασις haimóstasis "styptic (drug)") is a process that causes bleeding to stop, meaning to keep blood within a damaged blood vessel (the opposite of hemostasis is hemorrhage). It is the first stage of wound healing. Most of the time this includes blood changing from a liquid to a solid state. All situations that may lead to hemostasis are portrayed by the Virchow's triad. Intact blood vessels are central to moderating blood's tendency to clot. The endothelial cells of intact vessels prevent blood clotting with a heparin-like molecule and thrombomodulin and prevent platelet aggregation with nitric oxide and prostacyclin. When endothelial injury occurs, the endothelial cells stop secretion of coagulation and aggregation inhibitors and instead secrete von Willebrand factor, which initiate the maintenance of hemostasis after injury. Hemostasis has three major steps: 1) vasoconstriction, 2) temporary blockage of a break by a platelet plug, and 3) blood coagulation, or formation of a clot that seals the hole until tissues are repaired.
The evolved ability of the human body to stop bleeding has limits when the size and/or nature of the wound overwhelms the clotting process. Additionally, patients with compromised abilities in their clotting process can be at extreme risk from relatively minor wounds. As a result, hemostasis products have seen and will continue to see strong growth in the overall wound closure and management market.
Given the opportunity and the relatively low barrier to market entry, Arch Therapeutics could become an important player in the hemostasis market.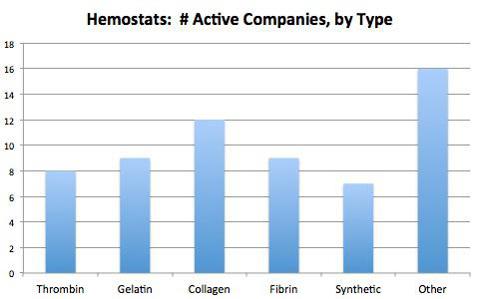 Source: MedMarket Diligence, LLC; "Worldwide Surgical Sealants, Glues, Wound Closure and Anti-Adhesion Markets, 2010-2017." Report #S190.
Growth in the global hemostasis market is near 10% with some of the highest growth seen in the U.S. and Asia/Pacific markets, although driven by different dynamics.
Lead product AC5™
As mentioned before, Arch Therapeutics is a life science medical device company that aims to develop products that make surgery and interventional care faster and safer by utilizing a novel approach that stops bleeding ("hemostasis"), controls leaking, and provides other advantages during surgery and trauma care. The leading product candidate, AC5™, is designed to accomplish hemostasis in minimally invasive and open surgical procedures.
AC5™ is a biocompatible synthetic peptide containing naturally occurring amino acids. When applied to the wound, AC5™ intercalates into the interstices of the connective tissue where it self-amasses into a physical, mechanical nanoscale structure that provides a fence to leaking substances, such as blood.
The results of early data from preclinical animal tests have shown that AC5™ achieves hemostasis quickly and effectively. Hemostasis occurred over 30 times faster than control use of saline and 10 times faster than the use of cauterization. AC5™ can be applied right away as a liquid or a spray, making it user-friendly and able to conform to irregular wound geometry. Because it is not sticky or glue-like, AC5™ is perfect for use in the setting of minimally invasive laparoscopic surgeries. Further, AC5™ is transparent, which should make it easier for a surgeon to maintain a clear field of vision during a surgical procedure and prophylactically stop bleeding as it starts. This procedure is called Crystal Clear Surgery™.
Business Plan and Catalysts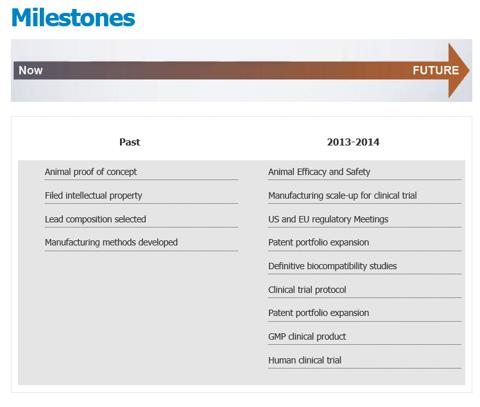 Source: Company's website
In the company's 10-Q filing, we can distillate the long-term business plan. The plan includes the following goals:
Expanding intellectual property portfolio
Conducting successful clinical trials on AC5™
Obtaining regulatory approval or certification of AC5™ in the European Union, the U.S., and other jurisdictions
Developing appropriate third party relationships to manufacture, distribute, market and otherwise commercialize AC5™
Develop additional product candidates in the hemostatic and sealant field.
It's good that the company described their long time business plan, but many investors are looking for short-term catalysts. The following catalysts for the remainder of 2013 and 2014 can be found below.
Further developing and securing intellectual property rights
Engaging a large scale manufacturing partner to produce cGMP product for clinical trials
Participating in EU and, subsequently, U.S. regulatory meetings
Preparing for initial clinical trials, including developing clinical trial protocols
Conducting formal biocompatibility studies
Commencing human clinical trials.
A Great Management Team
Making judgments about management is important before you invest in a company, especially when it is a start-up. A company is nothing without a CEO. The CEO of Arch is Terrence W. Norchi, MD. He co-founded the company in 2006. Dr. Norchi has a medical analytical investment background as a portfolio manager, but also as a pharmaceutical analyst at Putnam Investments, Citigroup Asset Management, and Sanford C. Bernstein. He earned an M.B.A. from the MIT Sloan School of Management in 1996 and completed internal medicine residency in 1994 at Baystate Medical Center, Tufts University School of Medicine, where he was selected to serve as Chief Medical Resident. He earned an M.D. degree in 1990 from Northeast Ohio Medical University.
The Head of Operations and Manufacturing is Mr. William M. Cotter. He has been advising Arch Therapeutics since 2011 and is an industry veteran who brings expertise in operations and product development. Mr. Cotter has over 30 years of operational experience in Medical Devices, Diagnostics, Biologics and Life Science companies, ranging from early stage startups to large multinationals. Mr. Cotter has served in senior operations and development roles for companies including Cohera Medical, Helicos Biosciences, Closure Medical Corporation (Johnson & Johnson), Sanofi Diagnostics Pasteur (Beckman Coulter), Genetic Systems Corporation (Bio-Rad) and Advanced Technology Laboratories (Phillips HealthCare).
For more on the management team, look here.
Final Note
Great emerging ideas are the lifeblood of investing. I think Arch Therapeutics offers a compelling opportunity to those who are patient and are familiar with the life science space.
The company is currently devoting most all of its efforts toward product research and development. In light of that, the company will require new financing for its research, development, and commercialization of its potential products. I think the current stock price doesn't reflect the future value of the company.
Arch Therapeutics lead product, AC5™, will capture the hemostasis market. With a great management team in place, we will hear more of this company going forward.
Disclosure: I have no positions in any stocks mentioned, but may initiate a long position in OTCQB:ARTH over the next 72 hours. I wrote this article myself, and it expresses my own opinions. I am not receiving compensation for it. I have no business relationship with any company whose stock is mentioned in this article.