It's no secret that Pandora's(NYSE:P) stock price has skyrocketed in the last 12 months. As they now approach an incredible market cap of 5 billion dollars, one has to ask: "How did we get here and what is next?"
First question: "How did we get here?"
Pandora has seen incredible growth in the number of users that listen on a monthly basis and the total amount of listening hours. However Pandora has seen these numbers slow down greatly in the last few months. Last month they reported listening hours of 1.36 billion and 72.7 million active monthly users. Both of these numbers were only a fraction of a percent growth over the August metrics.
So if growth has slowed down substantially, then why has the stock price jumped 55% in the last 3 months?
(click to enlarge)

Click to enlarge
The answer has little to do with Pandora. In July Facebook(NASDAQ:FB) reported incredible earnings and pointed to a growing mobile business. There is much hype around the growth of the mobile industry and companies such as Facebook and Google(NASDAQ:GOOG) are seeing increased earnings. As you can see from the chart below, there is a very strong correlation between Facebook and Pandora in the last 3 months.
(click to enlarge)

Click to enlarge
Though if we look at the financials of both companies, we can see a stark difference.
Pandora:
(click to enlarge)

Click to enlarge
Facebook:(click to enlarge)
Click to enlarge
The charts show us that Facebook is increasing their overall revenue, while simultaneously decreasing their expenses; thus resulting in an in overall increase in net income. At the same time Pandora's costs have actually increased more than their revenue so they have seen their net income go down.
So as we answer the second question: "What's next?" We will turn away from Pandora's financials (as their cost structure is not expected to change anytime soon) and look more at their corporate strategy.
There has been many discussions and analysis on Pandora's financial structure and their lack of portability, but very few have dove deep into their strategy. Below I will conduct a simple 5-force analysis coined by Michael Porter.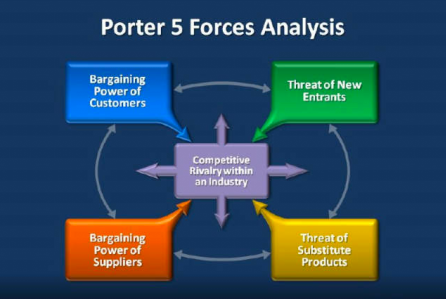 Industry definition: Streaming Internet Music
Competition within the Industry: Competition for companies that offer streaming music has exploded in the last couple of years. When Pandora first came out 8 years ago they were the only ones offering this service. Now rivals include Google, Rdio, Spotify, and most recently Apple(NASDAQ:AAPL). All of these companies offer (at minimum) the same service and some offer more features than Pandora. The main advantages of these companies are as follows:
Spotify: Offers on demand music.
Apple: Offers tight integration with IOS, greatest number of songs, and exclusive content.
Google: Android integration.
Rdio: Social media integration.
Pandora: Offered on all platforms and still enjoys the first mover advantage. Also has capitalized on the Music Genome Project.
Bargaining Power of Customers: The consumers in this case have great power over these companies because the standard has been set that consumers can obtain free music as long as they are ok with listening to advertisements. Many consumers under all of these companies do not pay to listen to music (though it seems that paid listeners are becoming more common as advertisements increase) and this makes it extremely hard for the companies to be profitable. With the competition that exists it is virtually impossible for any of these companies to raise prices on the consumer. In fact with Apple coming out just recently with a $24.99/year subscription ($12 less than Pandora's), it is pretty safe to say that consumers will not be forking over more money to pay for content and will be exposed to less ads.
Since Apple has hit the scene, Pandora has been forced to cut down total number of advertisements per hour and has lifted the 40 hours listening limit (originally imposed to cut costs).
Bargaining Power of Suppliers: The suppliers in this case would be the artists that make the music. Right now Pandora pays a hefty amount for royalties to be able to play the content on their radio service. Although this cost has gone down somewhat in the last few years, it is uncertain if Pandora is going to be able to keep cutting these costs.
It has also been made public that Apple actually pays music content owners more than Pandora, so the trend of lower payments is unlikely to continue.
Threat of New Entrants: In this case there are very little blockades to entry. There are also no switching costs. As a free Pandora listener what would you lose if you switched to another service? You have to create new stations? There is not much more than that to protect Pandora from people switching to other services. This is why the industry has seen so many players enter in the last 3 years.
Threat of Substitute Products: Fortunately for Pandora there are few alternative ways to consume music that are better than streaming. Pandora and Internet radio has been replacing regular FM/AM radio station for years. Also the trend to buy music and own songs has been on the decline, hence why Apple has added streaming to their offering. People like to listen to music and they do not like to pay for it. As long as there are companies offering the combination of these 2 factors, there is very minimal threat of substitutions.
Conclusion: Pandora enjoys a first mover advantage in the industry and might be able to edge competitors out in quality of music with the Music Genome Project. That being said they face some serious competition in the industry, rising costs, and a declining user base.
They are also face heavy pressure from both consumers and suppliers. This will ultimately drag down the speed of innovation as the company struggles to keep both sides satisfied.
Pandora's stock price is likely overblown due to the fact that it is unlikely they will be able to match companies such as Facebook and Google in mobile growth monetization. If Pandora can create a serious switching cost for users to leave, they might be worth somewhere between $20-22. If they cannot create this cost, I would expect to see their stock price plummet into the teens as growth numbers start to drop.
Disclosure: I am short P. I wrote this article myself, and it expresses my own opinions. I am not receiving compensation for it. I have no business relationship with any company whose stock is mentioned in this article.