A recent article put out by Reuters titled "America's Generation Y Not Driven to Drive" tries to uncover why Generation Y, the generation of 80 million between the ages of 16-34, is not driving as much. The article cites the following statistics:
"U.S. residents started driving less around the turn of the 21st century, and young people have propelled this trend, according to the federal government's National Household Travel Survey.
From 2001 to 2009, the average annual number of vehicle-miles traveled by people ages 16-34 dropped 23 percent, from 10,300 to 7,900, the survey found. Gen Y-ers, also known as Millennials, tend to ride bicycles, take public transit and rely on virtual media."
The article suggests that the reasons for not driving as much has to do with this generation being more concerned about the environment so they are riding their bicycles more or using public transportation instead. But the author acknowledges that the main reason is their anxiety over the economy.
I believe all one needs to see to appreciate why this generation, especially the youngest of this generation, is driving less is because of chronic unemployment. They simply can't afford to own a car let alone the gas.
This chart of the population of 16-19 year olds to employment ratio tells the story of their situation and why they are not driving as much as before: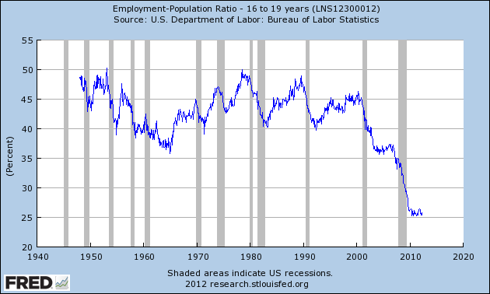 Post WWII, this age cohort has never been even remotely this unemployed. In the late 1970's. 1 in 2 of those between the ages of 16-19 was employed where as today is close to just 1 in 4 having a job.
Until we see healthy gains in employment, especially for America's young, owning and driving a car will remain in the backseat for generation Y.
Disclosure: I have no positions in any stocks mentioned, and no plans to initiate any positions within the next 72 hours.