AT WHAT POINT? - Supporters of the latest rally in asset prices will tell you that so long as monetary policy remains super accommodative, the only place for these asset prices to go is up. They would tell you that it really doesn't matter where the fundamentals are. But does this really make sense? At what point does the correlation break down? At what point is the artificial support from the Fed completely priced in? And once we get to that point, what then is left to keep these asset prices propped up? I would argue that once we get there (and we could very well be there now), the fundamentals will come screaming back into play, triggering a massive capitulation trade. The ascendancy of US equities to record highs on the back of a weaker NFP report, only highlights just how disturbing this relationship between asset prices and bad news has been.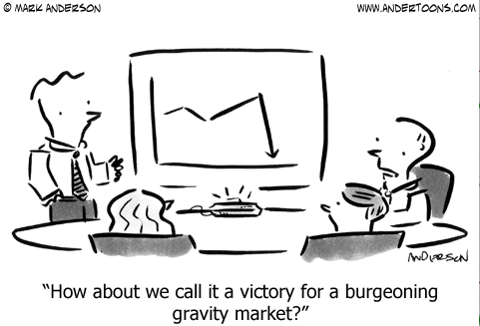 CHARTS FOR THOUGHT - Despite all of the geopolitical, structural and cyclical risk to the economy, the equity market has managed to easily dismiss these risks on the actions of the Fed. But this just doesn't feel right, and if it doesn't feel right, it probably aint. I keep thinking about life in comparison to the stock market. If I were to personify the stock market, I would liken it to an ungrateful homeless person rescued from the depths of despair and offered salvation by way of food, fresh clothing, warm food and shelter. The homeless person can not appreciate how lucky he is to have been saved and only looks to see how he can take as much advantage of the situation as possible. There is simply no fundamental justification for the rally in risk assets to current levels, and monetary policy is the only driver of this madness. Zerohedge put up a great post to illustrate this fact and I think it is worth a good look.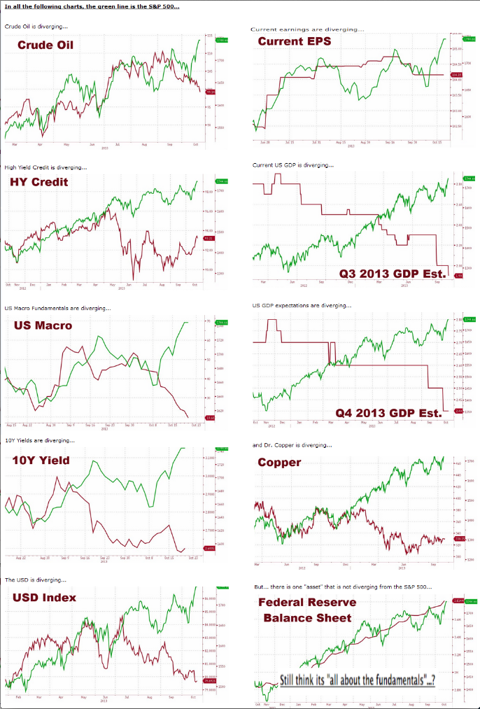 TALE OF THE TAPE - Technically speaking, monthly studies are overbought on the S&P, we have finally taken out stops above the previous record high at 1735, and have managed to clear psychological barriers at 1750. Some rising trend-line resistance from the May peak has also been easily breached, and all of this begs for a healthy corrective retreat. On the daily chart, we have put in 9 consecutive higher lows, and heading into Wednesday, 9 out of the last 10 days have been up-days. A break back below 1740 on Wednesday would negate this bullish sequence and perhaps act as the necessary catalyst to get this market moving in a more sensible direction. The US equity market is the most important market to watch at the moment, as this is a market in the one asset class that has failed to react to any concerning fundamentals in recent months and even years. On the currency front, the market seems to be falling into line, and things are definitely making some sense on Wednesday. At the time of publication, the Yen is the strongest major currency on the day, while the higher yielding commodity currencies are getting hit the hardest. This is a welcome development. The weakness in the New Zealand Dollar is quite welcome, and I have been building back into my short trade. I am also looking for one more sharp pullback in USD/JPY so I can take advantage of the longer-term bullish outlook and buy into a dip. Ideally, it would be great to pick this up somewhere in the 95.00′s. Elsewhere, keep a very close eye on EUR/CHF. A pick up in uncertainty and broad risk liquidation could very well pressure the rate back into uncomfortable territory around the well publicized 1.2000 SNB figure.
SIMPLICITY IS GENIUS - I have always tried to keep things simple and do not appreciate those who try to teach and explain over my head. There is nothing that can't be easily explained if it is taught by someone who truly understands what they are talking about. If I do not understand something, I will ask someone to explain it to me like I am a 4 year old. It is amazing how much clearer it all gets when explained like this. Ray Dalio over at Bridgewater, one of the world's premier hedge funds, took the time to break things down and explain just "How The Economic Machine Works." It is a wonderful video and I would recommend that all of you take the time to watch.