Primarily, I don't swing trade... I'm a scalper, and my time frame for a trade rarely exceeds an hour. However, there is one swing trade I always perk up to when I notice it. The trade I'm talking about is The Box Trade.

You see, The Box Trade happens about twice per year, and it has already worked once this year. The reason I like this trade, even though it doesn't fit my trading style, is simple, it works four out of five times. Which is a very high success rate as far as trading goes.

The idea is amazingly simple, perhaps that's why most miss it. Simply put, the market bangs back and forth a few days... it runs to the top, runs to the bottom… and so on and so on. Eventually, as the market is pounding back and forth over a period of at least 10 days, it will form a box. But we all know the market won't stay in a trading range forever… it will eventually break out of the box, either up or down.

When it does so on a closing basis, you have a trade.

If the market is strong enough to break the top of the box, it will continue to move higher. If the market is weak enough to break the bottom of the box, it will continue to move lower.

The last time this trade setup was February of this year (2009). The S&P 500 was down about 10% year to date, and the market had many thinking it would make up for those losses in short order.

Not me, the box was broken. On February 17, the S&P 500 closed below the box it had been forming over the previous thirty days, signaling it was headed lower...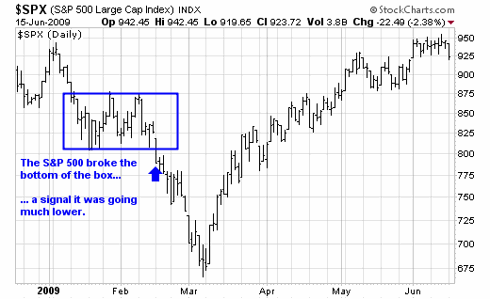 About a month later, the S&P had lost over 149 points, more than 18%. The Box Trade worked and I made a killing.

Today, we're seeing it again...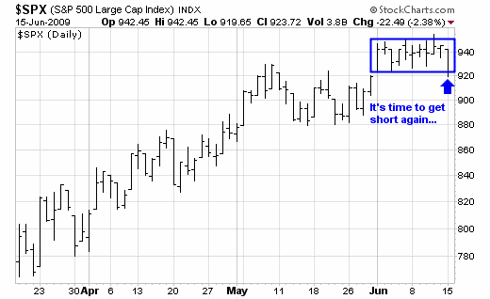 The S&P has been marching higher since March, and has spent all of June forming a topping pattern. The top of the box has been hit more than once at the 950 level.

However, Monday's close brought the short signal when the S&P closed below the bottom of the box at 921. This is where a short position should be entered.

I expect the S&P to lose at least another 30 points from here... This trade only comes twice a year… but when it does, big gains can be made.

Good Trading,

Brian Heyliger
 ps. I have no positions listed.