Investors in Europe have seen nothing but cloudy skies recently, with four straight quarters of significant declines in corporate earnings. However, the sky may be brightening in 2014.
Analysts are now projecting that fourth quarter earnings for the STOXX 600 will return to growth, with a 0.4% increase expected. The next two earnings seasons are expected to be a transitional phase, with modest earnings growth, followed by strong growth throughout the remainder of 2014, as shown below in Exhibit 1.
Analysts expect the third quarter of 2013 to mark the end of a streak of poor earnings results, as earnings declined 14.5%, and missed expectations by 0.8% in aggregate in the most recent reported quarter. Economically-sensitive sectors were particularly hard hit. Companies in the Consumer Cyclicals sector missed earnings estimates 60% of the time while reporting an aggregate earnings decline of 29.8%. In the Energy sector, 62% of companies missed estimates while profits fell 21.2%.
EXHIBIT 1. STOXX 600: EARNINGS GROWTH TREND
(click to enlarge)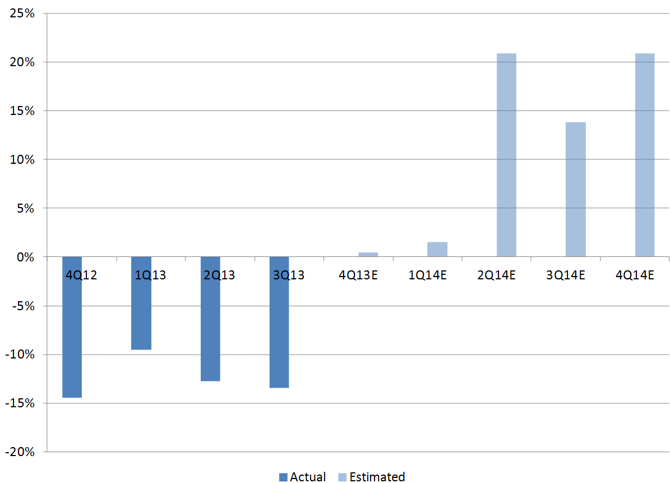 Click to enlarge
Source: Thomson Reuters I/B/E/S
Yearend improvement
Looking ahead to the fourth quarter earnings season, Consumer Cyclicals earnings are expected to grow 0.5%, while Energy is expected to suffer an 18.0% earnings decline. Although Energy, now the second largest sector in terms of earnings, is expected to report a weak quarter, six of the ten sectors are seen growing profits, four of them by double digit percentages.
The Financials sector is an important part of the earnings turnaround. Earnings in the sector are estimated to grow 17.5% in the fourth quarter after declining 13.8% in the third quarter. Within Financials, the Investment Banking and Investment Services industry group is expected to drive growth, primarily because of the performance at UBS (UBSN.VX), which lost $0.36 per share a year ago and is expected to report a profit of $0.24 per share when it announces fourth quarter results.
Similarly, the Industrials sector is expected to contribute to earnings growth in the fourth quarter. After a 10.4% earnings decline in the third quarter, companies in the sector are expected to report an aggregate 47.6% earnings increase. Easy comparisons to a weak quarter a year ago are a significant factor in the high growth rate for the sector, but the improving European economy is helping as well. Industrial conglomerate Siemens (SIEGn.DE) reported 6.3% earnings growth, surprising analysts, who had projected a decline in profits for the company. The company credited an improved macroeconomic environment in developed markets but did caution that business in China was giving mixed signals and that the company faces challenging conditions in other emerging markets.