We were quite bullish on the possible trend reverse of gold price at the beginning of this month. But the analysis we did proved wrong.
Below is the weekly chart for GLD. GLD had two gap down moves last week.
First, last Monday from 161.57 to 159.70 and the second, last Friday from 158.35 to 155.76.
It bounced back Friday when it touched the bottom of its down channel at around 154.56. It is short term oversold and may see some rebound this week but it is highly likely that it will drop further to $150.00 area before we see the real bottom.
The recent quick drop provided another very good short term buying opportunity. As the chart showed that whenever GLD had a big and quick drop, it will be followed by quick, big rebound.
Can history repeat one more time?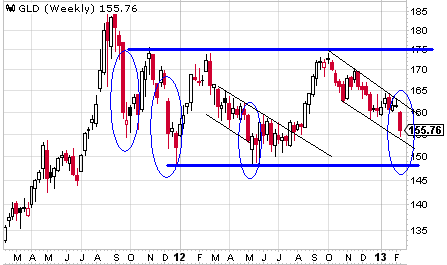 Disclosure: I have no positions in any stocks mentioned, and no plans to initiate any positions within the next 72 hours.