With less than two weeks to go, it is everyone's guess where market will be ended by year end.

Before answering this questions, we would like to look at how the chart tells us.

DJ 30 - Dow John 30 industries index closed at 12,101.92 today.  Up 433.41 points or +3.74% so far this year.

Chart looks very bullish. It forms a reverse H&S pattern and an ascending triangle pattern at the same time and both are bullish ones. It also bounced back from its strong support of 11,700 level.

If it can break out its 12,250 resistance, we should see a 700 point run, which gives us 12,950 short term target and new year high if the target can be reached by year end. That will also give us a +11.85% gain for the year of 2011.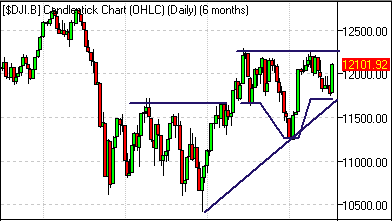 S&P 500 - It closed at 1,241.21 today. It is still in negative territory so far this year, a 18.13 points or -1.34% loss with 7 sessions to go.

S&P 500 and Nasdaq have the similar chart pattern: a less bullish symmetric triangle pattern. That means, it has 50%-50% chance to either break up or down. But we prefer having a break up in coming days.

The reasons:

1. DJ Industries already gives us a positive return so far this year and its chart is very bullish. S&P 500 should do a catch up job.
2. VIX gives us bullish trend (see its chart below)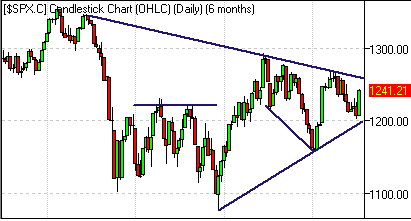 VIX - It closed at 23.03 today. The volatility index has been in down trend after it formed a double top on October 4. The support was broken gap down on November 30. The index bounced back from the broken-down later but resumed its down trend after touched its previous support. The index made a new recent low today.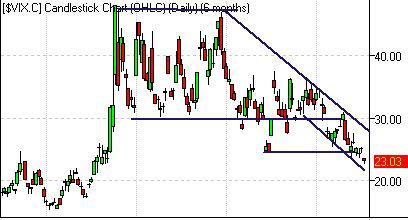 Fundamental also supports further gains as S&P 500 forward PE is now at historical low (less than 11).  Most recent US economy data also support better days ahead of us.




Disclosure: I have no positions in any stocks mentioned, and no plans to initiate any positions within the next 72 hours.