The Market

The market was still run within a well-defined box. For S&P500, the box is 1,085 - 1,115. Monday continued the run and Tuesday - Thursday pulled back from the top of the box. The small bounce back Friday barked the trend due to RIMM and ORCL better than expected results. For the whole week, S&P500 was basically unchanged (a -0.36% loss). We expect that market will still be fluctuant within the box this week and next. There is only two weeks left this year and there will not be any significant moves during this two weeks. See the chart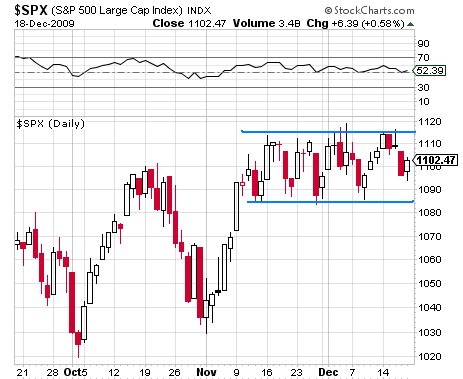 Based on our view of the market for the next two weeks, we may play some short term trade on some ETFs: for example, SPXU and UPRO, 3x S&P500 bull and bear ETF. That is, when S&P touches the bottom of the box, we buy 3x bull S&P 500 ETF UPRO and buy SPXU when S&P500 runs up to the top of the box.

Our Short Term Portfolio has returned +440% since Feb 1, 2009 and our $5K Portfolio returned +120% in six months.