Last Year's Prediction


I made several predictions last year. The most important ones were March 8 2009 market bottom prediction and the 10 months consecutive monthly gain prediction for the market I made on June 2008. The result is quite accurate. Except October small loss, the market made 9 monthly gains. See the table for S&P 500: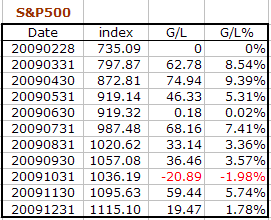 Whole Year Prediction
for 2010
As I have repeatedly mentioned that we are in the early stage of long term 5-year bull run, which started from November, 2008. I am very bullish on the market this year.
Of course I do not believe that we will have another big runs we had in 2009. On the other hand, not big correction will be seen either.
The market will give us around 10% return by the end of this year. For S&P500, we will see 1,250 - 1,270 before the year ends.
Month-by-Month Prediction
Market will continue its bull runs during the first two months. S&P 500 will reach  1,150 - 1,160 level several times during this period of time but cannot break it.
The trend will turn lower in March and may touch a low of 1,080.
For the next seven months, the market will trade up/downs in a box. For S&P 500, the box will be bounded by 1,050 - 1,160 levels.
By the end of October, S&P 500 will finally break out 1,160 important resistance level and be pushed to 1,200 and above. It will stay there until the end of this year.
Disclosure:
I do not own any index fund and related ETFs at the moment.