The following is the top ten market movers in the week of April 16-20, 2012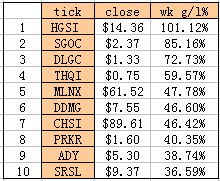 Among the movers:
Three stocks HGSI, CHSI, SRLS moves were due to buy-out offers.
HGSI buy-out offer price is 100% higher than its then market price; It is the second stock in red-hot DNA sequencing sector to get a buy-out offer. In earlier date, ILMN got an offer from Roche but the company has rejected the offer. Other companies in this sector are GNOM, LIFE and PACB.
Two stocks are from recent hot Chinese ADRs: SGOC and ADY; The third one is also related to China: DDMG, a recent IPO, signed a deal with China authorities to allow the company to distribute US movies into China's market.
Two are earning related: MLNX and THQI. Both gave much better than expected earning result or earning projection.
Disclosure: I am long GNOM, THQI.