Market rallied last week. S&P 500, for example, was up four days in a row after down 0.84% Monday. It was up 1.80% for the week and closed out the week above the psychologically important 1,400 mark for the first time since early April. But the index is still down 0.4 percent for the month so far with only one trading day left in April. After the strong moves, all major indexes are now in short term overbought condition and may take some rest this week.
Our Short Term Play gained +19.71% last week. We made 7 trades with 5 wins and 2 even. Big winners include AAPL, GNOM, MITL and MCP. If DANG, AMRN and PDS were held a little longer, our weekly gain can easily pass 30% mark. On the other hand we did have sold GNOM, AAPL, MCP at their tops. Nothing is perfect. overall we are quite satisfied with our result.
DANG - Before this trade, we already indicated that stock would find strong support at $7.58 area and will stop running at around $8.50. The stock acted more volatile than we predicted. The two day actual low and high were $7.41 and $8.76 respectively.
AMRN - The momentum did continue into the Friday but with a much slower pace and stock closed at $12.01 that day, up +3.35% from our buy price.
The following table summarized the performance for our Short Term Play in April: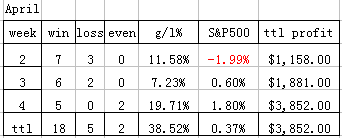 Some of our winners:
week 1: JRCC +3.76%; JRCC +3.46%; GNOM +4.06%
week 2: DANG +3.00%; BIOF +3.18% KBH +1.59%;
week 3: AAPL +9.63%; MITK +2.25; MCP +1.95%
Total return for three weeks is +38.52% via +0.37% S&P 500 gain. That is, if $10,000 is used for each trade, we will make $3,852 after three weeks of play. If $20,000 is used for each trade, the profit will be around $7.600. If we were a little more patient, the gain could be well above 50%.
We will start our second month of Play this week.