Every Halloween is all treats and no tricks for Hershey Co. (HSY.N), maker of chocolate bars and other sweet treats for more than a century. Looking at the stock, we wonder whether the sugar rush is getting a little out of hand.
There are many reasons to love HSY - whether you have a sweet tooth or not. It has high earnings visibility and accompanying cash flow - indeed the stock looks great from an Earnings Quality perspective (see chart 2, below). The challenge: what is Mr. Market making you pay for a premium quality company with defensive earnings characteristics and a nice international growth story?
Does a 26% premium to its own 10 year median valuation and a 41% premium to the food & tobacco industry sound fair? Indeed with the entire industry trading at a major premium to its historical median, one wonders whether Hershey's defensive characteristics are outweighed by the fact that it's clearly become a market favorite.
CHART 1
The value of valuation
There are traditionally two countervailing forces that affect stock prices. For the short term, momentum is the key factor - stocks that have seen rising share prices tend to continue to do so. Equally, stocks that have received positive analyst revisions (rising sales and earnings forecasts) tend to continue to do so. Over the short term, these are powerful factors and explain why stocks sometimes disconnect from factors that play out over the longer term - such as valuation.
A stock can remain overvalued for a long time but, remembering the first rule of Bob Farrell, former chief analyst at Merrill Lynch - markets tend to return to the mean over time. Unfortunately there's very little to help an investor with what "over time" means - and indeed Farrell's rule #4 - rapidly rising or falling markets usually go further than you think - reminds us of this. The only barometer you have which helps out over a longer time frame is valuation.
So if you want to invest with a short term horizon - you utilize short term factors: price momentum, analyst revisions, etc. If you want to own stocks over a longer time frame you utilise valuation factors. Hershey is a classic example of where these factors diverge - you can see from its valuation scores that it looks unattractive as a longer term play - but remains attractive over the shorter term.
Cheaper commodities
In its Q3 earnings release, Hershey reported that "third-quarter adjusted gross margin increased 300 basis points driven by lower commodity costs, supply chain productivity and cost savings initiatives, favorable sales mix and fixed cost absorption from volume gains."
Lower commodity prices have been a tailwind for Hershey's profits. That may become a more difficult source of margin improvements if recent commodity price trends hold. This Reuters article cites rising demand and prices for a limited supply of cocoa butter.
And, while benefiting from the decline in sugar costs over the past couple of years, there has been a recent reversal (see Chart 3, below). However, prices did back off this past week.
Chart 3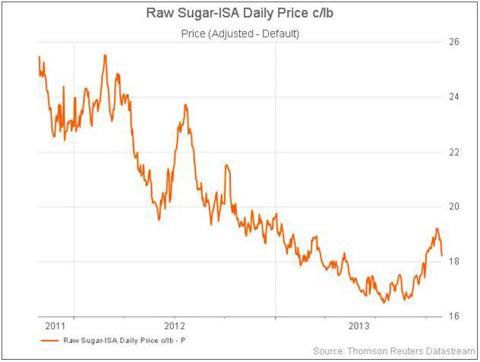 Source: Datastream Professional
Sweet or sour
As we begin to approach the holiday season and celebrate with the overconsumption of chocolate (and soon, turkey) it's worth reminding ourselves of the importance of valuation. Like the rubber band that can stretch for only so long, the market is starting to price good businesses at levels that imply no risk. So when you contemplate the thousands of Hershey bars that will be handed out tonight, you might also turn back to the stock's fundamentals and examine whether you're being appropriately rewarded for the risk.
Receive stories like this to your inbox as they are published. Subscribehere and follow us @Alpha_Now on Twitter. If you are looking to access Thomson Reuters data or analytics, register for a free trial.