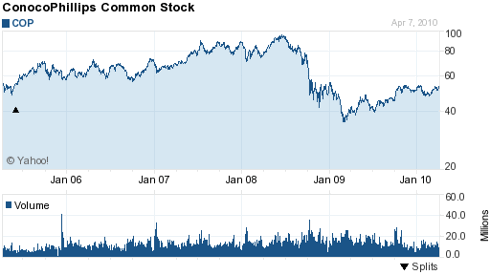 Conoco Philips CEO Jim Mulva was interviewed by CNBC's Erin Burnett yesterday and you can view it here: 
http://cosmos.bcst.yahoo.com/up/player/popup/?rn=289004&cl=19046430&src=finance&ch=4043681.
Mulva supports a more balanced U.S. energy policy going forward - for more natural gas in the mix of alternative energy options. Mulva says energy
security
is more important than energy
independence
.  He also says natural gas is not simply a bridge fuel but should be considered part of long-term energy policy. Mulva sees long-term natural gas prices in the $6-8/Mcf range. He also talked about the Denali natural gas pipeline, but that has been covered in many other press releases so it will not be discussed here.
Although it is good to see Mulva pounding the table in support of natural gas, as a Conoco (NYSE:
COP
) shareholder it disappoints me that he, like President Obama and Energy Secretary Chu, just cannot bring himself to support the obvious solution to American's oil crisis: natural gas transportation. Mulva, like Exxon Mobil's (NYSE:
XOM
) CEO Tillerson, apparently only envisions increased natural gas use for power generation, not for transportation. Clearly Conoco generates more profits producing oil - especially with natural gas at $3.91 Mcf and oil at $86/barrel. But why not run on both cylinders? Increased natural gas consumption for transportation will not endanger COP's oil profits. Oil consumption growth in China, India, and other emerging markets will see to that. So Jim, come on, support Pickens and natural gas transportation legislation currently moth-balled in Congress. Also, Jim, just think of all the compressors GE would sell if the U.S. began to build out a natural gas refueling infrastructure. Since you sit on the Board of Directors for GE, seems like you should be looking out after that business opportunity as well.
I also take issue with Mulva's comments that it is energy
security
that is important not energy
independence
. After what the country has experienced over the past few years, certainly any definition of "security" should include
economic security
. How is the U.S. going to achieve economic security while it is dependent on foreign oil producers for 65% of its oil (currently "cheap" at $86/barrel)? As Pickens says, we are witnessing the greatest transfer of wealth in the history of the man. After all, the Federal Reserve and U.S. Treasury can only print and distribute so much fiat currency to fund oil wars and foreign oil purchases, right? Logically, it is simply unpatriotic not to support natural gas transportation - it would create many good American jobs, reduce the trade deficit, and reduce CO2 and particulate emissions in the process.
Meanwhile, Obama and Chu continue to support the two most dirty and expensive fuels: coal and oil. As if the Kingston, TN environmental disaster
http://en.wikipedia.org/wiki/Kingston_Fossil_Plant_coal_fly_ash_slurry_spill
 wasn't reason enough to replace all coal burning plants with natural gas, the recent mine catastrophe in West Virginia reminds us that above ground pollution isn't the only reason to make the switch: miners put their lives at risk every day to pull the dirty black fuel out of the ground. Over 1,000 miners die every year of black lung disease and thousands more are affected by all kinds of ailments due to various exposures in the mines. Before all the comments are posted about coal being "cheap", as Robert Hefner points out in the his excellent book
The Grand Energy Transition
, if the true environmental and health care costs were put on the coal producers instead of the on the backs of the American people, coal would be much more expensive than natural gas. Indeed.
All that said, I continue to recommend Conoco as an investment. Despite a recent run-up in the stock price, the dividend yield is still over 4%. Although the low price of natural gas hurts the company, oil at $86 will more than compensate. Yesterday, Chevron (NYSE:
CVX
) reported increased downstream margins in the current quarter, and this will favorably affect COP as well now that summer driving season is at hand. Expect COP to beat analyst expectations when they report earnings on Wednesday April, 28. Aslo - It should be an interesting conference call considering all the divestiture work in progress. COP under $50 is a buy.
Disclosure:
Long COP
Disclosure:
Long COP