One of the most exciting biotechnology companies in the market today is Mast Therapeutics (NYSEMKT:MSTX), a little known company developing an Orphan designated investigational agent (MST-188) that has potential to reduce ischemic tissue injury and end organ damage by restoring microvascular function. MSTX's current clinical focus is on two Orphan diseases: Sickle Cell Anemia ("SCD") and Acute Limb Ischemia ("ALI"). MSTX has already received Orphan Designation for SCD in the U.S and EU, and for ALI in the EU. The stock currently trades at 30 percent below its cash position, has no debt, and existing financial resources are more than adequate to fund the ongoing Phase 3 study in SCD, Phase 2 study in ALI, as well as additional studies for other indications. With a potential pharmaceutical treatment for multiple medical conditions affecting millions worldwide, MSTX is a significantly undervalued biotech with exponential upside.
The Company
Effective March, 2013, Adventrx Pharmaceuticals become known as Mast Pharmaceuticals, taking its name from the acronym (NYSE:M)olecular (NYSE:A)dhesion & (NYSE:S)ealant (NYSE:T)echnology Platform. In 2009, the majority of business operations were suspended and the workforce was reduced to only two employees. From 2009 to 2011 the company's primary focus was in oncology and the reformulation of drugs previously approved by the FDA. Like many small biotechs, the company's attempts to gain FDA approval for their oncology based drugs proved unsuccessful, and the company instead focused on clinical development of MST-188 for Sickle Cell Anemia (Phase 3) and Acute Limb Ischemia (Phase 2). MST-188 is the most clinically-advanced drug for SCD, and MSTX initiated a Phase 3 study in March 2013. MSTX expects to begin its Phase 2 study for ALI in late Q4 or early Q1 2014. They have received Orphan Designation for MST-188 for SCD in the U.S and EU and for ALI in the EU. Management intends to file for Orphan Designation for ALI in the U.S. later this year.
Key Statistics
Outstanding Shares: 102.7 Million
Institutional Ownership: Approximately 50%. Among others, Institutional investors include Franklin Templeton and Deerfield Capital Management.
Analyst Rankings
Initiated at Overweight by Piper Jaffrey with a price target of $1 (June 2013).
Vista Partners placed a twelve-month price target of $2.25 (July 2013).
Initiated at Market Outperform by JMP Securities with a price target of $2.00 (April 2013).
Analyst price targets suggest the short-term (12 month) upside potential for MSTX ranges from 1x to 4x, based on the current share value.
Fundamentals
The Company's net loss for the second quarter of 2013 was $4.9 million, or $0.09 per share (basic and diluted), compared to a net loss of $4.2 million, or $0.09 per share (basic and diluted), for the same period in 2012.
R&D expenses for the six months ended June 30, 2013 were $6.3 million, an increase of $2.0 million, or 45%, compared to $4.3 million for the same period in 2012. The increase was due to increases of $3.7 million in external clinical study fees and expenses, $0.2 million in personnel costs and $0.1 million in share-based compensation, offset by a $2.0 million decrease in external nonclinical study fees and expenses. The increase in external clinical study fees and expenses was primarily related to EPIC and the thorough QT/QTc study of MST-188. The decrease in external nonclinical study fees and expenses resulted primarily from a decrease in research-related manufacturing activities for ANX-514. As of June 2013, the Company had cash, cash equivalents and short-term investments totaling $53.4 million. Stockholders' equity amounted to $57.9 million as of June 30, 2013.
In June 2013, the company completed a secondary offering, effectively doubling the number of outstanding shares. The offering consisted of 50,000,000 units, each unit consisting of a fixed combination of one share of common stock and one warrant to purchase 0.5 of a share of common stock, at a public offering price of $0.50 per unit. Proceeds from this offering totaled $22.9 million. The warrants (25 million) have an exercise price of $.65. Exercise of the warrants would generate an additional $16.2 million. The underwriter chose to exercise the over allotment option, increasing the number of shares by an additional 7.5 million.
Current cash and expected proceeds from warrants are sufficient to fund the company through the Phase 3 study for SCD, Phase 2 study for ALI, as well as all other ongoing clinical developments.
MST-188
As part of the company's April 2011 acquisition of SynthRX, the company gained control of MST-188. MST-188 is a purified form of a nonionic, triblock copolymer (P188). It is an investigational agent that binds to hydrophobic surfaces on damaged cells and improves membrane hydration and lowers adhesion and viscosity, particularly under low shear conditions. Research has demonstrated that P188 prevents adhesion and aggregation of soluble fibrin and formed elements in the blood and maintains the deformability of red blood cells, the non-adhesiveness of unactivated platelets and granulocytes and the normal viscosity of blood. MST-188 has the potential to reduce ischemic tissue injury and end-organ damage by restoring microvascular function, which is compromised in a wide range of serious and life-threatening diseases and conditions.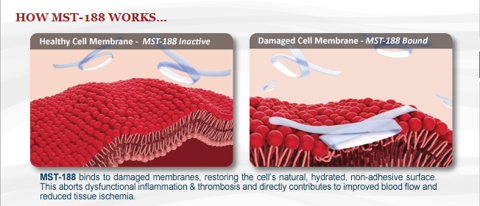 Sickle Cell Disease
Sickle cell disease is an inherited blood disorder in which red blood cells contain an abnormal type of hemoglobin and frequently take on a sickle- or crescent-shape. These defective red blood cells can block small blood vessels, which can lead to tissue damage or even stroke. Other complications include anemia, jaundice, gallstones, severe leg and arm pain, and spleen, liver and kidney damage.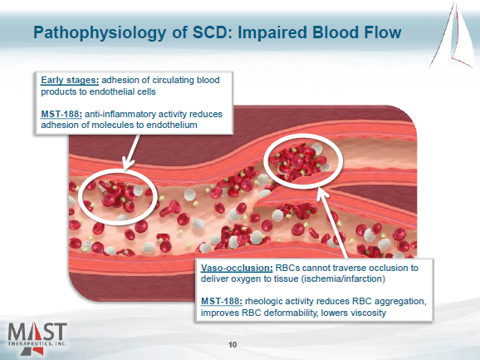 In a recent University of Florida study, researchers evaluated data from the Florida Medicaid program on 4,294 sickle cell patients. The study found that the annual cost of medical care in the US for people who suffer from sickle cell disease exceeds $1.1 billion. Roughly 80% of the costs were associated with inpatient care; 3.2% of costs were associated with emergency department (NYSE:ED) use, 0.9% with physician visits, and 3.6% with prescription drugs. The remaining 11.7% of costs were attributed to various forms of care, to include home health and nursing home care.
Currently, treatment for sickle cell anemia is usually aimed at avoiding crises, relieving symptoms, and preventing complications. Bone marrow transplants offer the only cure for SCD, but this is an expensive, difficult procedure with significant risk. Other treatments may include medications to reduce pain and prevent complications, blood transfusions, and supplemental oxygen. Hydroxyurea has been found to be effective in reducing the frequency of painful episodes in adults with SCD, but is not useful as a treatment for patients who are experiencing an acute painful episode, nor is it approved for use in children. During the past 25 years, a number of pharmacological agents have been evaluated as potential intervention strategies that might be capable of shortening or reducing the severity of painful episodes; yet each of these therapies has been found to be either too toxic or only marginally effective.
MST-188 for Sickle Cell Disease
Patients with SCD are known to experience severely painful episodes associated with the obstruction of small blood vessels by sickle-shaped red blood cells. These painful episodes are commonly known as acute crisis or vaso-occlusive crisis. Reduced blood flow to organs and bone marrow during vaso-occlusive crisis not only causes intense pain, but can result in tissue death, or necrosis. In previous clinical studies of SCD, MST-188 has demonstrated the ability to restore microvasular function, reducing pain, as well as decreasing the duration of the vasco-occlsive crisis.
Previous Phase 3 Study
In 2001, SynthRx, before its acquisition by MSTX, published the results of the Phase 3 study evaluating MST-188 for the treatment of SCD in the Journal of the American Medical Association. The study found that those who received MST-188 experienced a decrease in the duration of painful episodes and experienced fewer symptoms when compared to those only receiving placebo. The difference between these groups was significant, but relatively small. In subgroup analysis, a more significant effect on both parameters was observed in children and in patients who were receiving concomitant hydroxyurea. Additionally, the researchers concluded that MST-188 was safe and well tolerated.
In reviewing their findings and study design, the investigators concluded that they made serious missteps when establishing the primary endpoint of the study. The use of an extremely stringent definition of crisis resolution (168 hours) represented a very conservative approach to the analysis of the data. As the 2001 article stated:
"It is important to emphasize that in an earlier Phase II study, even greater benefits had been observed. This disparity may be explained in part by the assumptions used in our definition of crisis duration, the primary endpoint in the study. Specifically, we observed that fewer patients achieved crisis resolution within 168 hours than in patients in the earlier study had led us to anticipate. The current study used a very stringent definition of crisis resolution, one that required repeated assessments of pain throughout the entire hospitalization, including the period following discontinuation of parenteral analgesics. In a number of instances, patients were discharged from the hospital before pain relief had been confirmed by a second pain assessment. In either case, the analysis plan required that these patients be considered failures and that the worst case duration of the crisis (168 hours) be inputted for them."
Thus, the uses of parenteral analgesics were not controlled for and incomplete pain data for the study participants were considered a failure when performing the statistical analysis. Additionally, pain severity was assessed via the patients subjective self-report of pain, an unreliable method that is difficult to quantify.
Ongoing EPIC Phase 3 Study
In developing their pivotal Phase 3 study, MSTX has worked closely with the FDA, eliciting feedback to determine clear, quantified, endpoints. Utilizing the lessons learned and information gleaned from the initial study, MSTX developed the EPIC ((NYSE:E)valuation of (NYSE:P)urified 188 (NYSE:I)n (NYSE:C)hildren) study. This is a randomized, two-arm, double-blind, placebo controlled study design. 388 patients will be enrolled between the ages of 8-17 across 40 centers in the U.S. and 30 centers outside of the U.S. The primary endpoints include the duration of the crisis and the time from randomization to the last dose of parenteral opioids. Secondary endpoints include rate of re-hospitalization for vaso-occlusive crises (within 14 days) and acute chest syndrome within 120 hours of starting participation in the study (randomization). The first active site was March 2013 and completed enrollment and data readout are expected in 2015. As detailed in the illustration below, management has developed clear, quantifiable endpoints when compared to the previous evaluation to MST-188. From their investor presentation: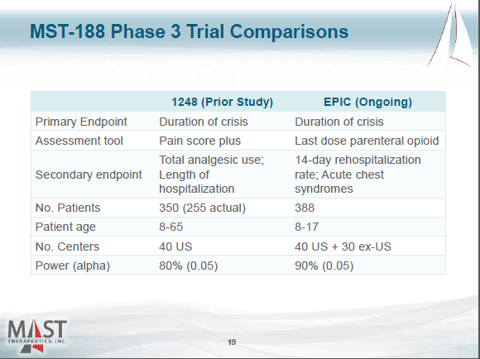 Peripheral Arterial Disease- Acute Limb Ischemia
Acute limb Ischemia is a form of Peripheral Arterial Disease (PAD) characterized by the sudden decrease blood flow to a capillary bed in an extremity that threatens the viability of the limb. Symptoms develop over a period of hours to days and range from new or worsening intermittent pain in the foot or leg while the person is at rest, muscle weakness, and paralysis of the affected limb. If left untreated it can lead to rapid tissue death and amputation. PAD is estimated to affect 12% to 15% of patients over age 65 years and between 8 and 10 million people in the United States. As the population ages, becomes more obese, and as diabetes becomes more common, experts anticipate the number of cases to increase exponentially. In 2010, a total of $4.37 billion was spent on PAD-related treatment. Specifically, the PAD therapeutics market was estimated at $606 million in 2009 and expected to reach $1 billion by 2017.
Current standard of care for ALI is tissue plasminogen activator (tPA) a protein involved in the breakdown of blood clots. tPA is commonly used for diseases featuring blood clots, such as pulmonary embolism, heart attack, and stroke. In treating ALI, tPA is administered through an arterial catheter directly to the site of occlusion in the case of peripheral arterial thrombi and thrombi in the proximal deep veins.
MST-188 for Acute Limb Ischemia
As previously discussed MST-188 binds to the hydrophobic surfaces on damaged cells and improves membrane hydration and lowers adhesion and viscosity. This in turn increases blood flow to extremities, minimizing the effects of the vaso-occlusive crises such as ALI, preventing the onset of tissue death. Research has found that the combination of MST-188+ tPA significantly minimized reperfusion injury, which is tissue damage caused when blood supply returns to the tissue after a period of ischemia or lack of oxygen, when compared to the use of tPA alone. The absence of oxygen and nutrients from blood during the ischemic period creates a condition in which the restoration of circulation results in inflammation and oxidative damage through the induction of oxidative stress rather than restoration of normal function. Additionally, the combination of MST-188 + tPA resulted in a statistically significant increase in the time before reocclusion, when compared to the use of tPA alone. Thus the ability of MST-188 + tPA to restore microvascular function as well as minimize reperfusion injury following periods of ischemia in early stage studies has proven successful.
At the present time, MSTX intends to initiate a Phase 2, proof of concept study for MST-188 in ALI, to examine the effect of MST-188+tPA vs. tPa in patients with catheter directed thrombosis. The study will be a dose finding, randomized, double-blind, active controlled evaluation of MST-188. The study will be initiated late 2013/early 2014, consist of 60 subjects, with complete enrollment and read-out within 15 months of study initiation. Once completed, the company intends to expand MST-188 to other indications of PAD as well as Cardiovascular Disease (i.e. stroke, heart attack).
MST-188 -Ongoing Research
When conducting due diligence, I believe it is important to seek out information not provided by the company to help assess the validity of the investigational agents they are developing. If other researchers, not affiliated with the company, are examining the same compound/mechanism and finding similar results, this lends credence to the approach taken by the company. In performing my analysis of MST-188, I reviewed a number of peer reviewed journal articles obtained through a search of PubMed for "Poloxamer 188." Results from my meta-analysis suggest robust efficacy of MST-188/P188 in restoring microvascular function as evidenced by various researchers detailed below.
Moloughney and Weisleder stated:
"Extensive loss of cells can compromise the integrity and function of tissues and leading to disease. Thus, methods to increase membrane resealing capacity could have broad utility in a number of disease states. Efforts to find reagents that can modulate plasma membrane reseal found that specific tri-block copolymers, such as poloxamer 188 (P188, or Pluronic F68), can increase the structural stability and resealing of the plasma membrane."
Boa, Wang, and Zhang et al., concluded that P188 attenuated TBI-induced blood-brain barrier damage leading to decreased brain edema and reduced cellular death:
"Plasma permeability plays an important role in the secondary neuronal death induced by traumatic brain injury (NYSE:TBI). Previous works showed that Poloxamer 188 (P188) could restore the intactness of the plasma membrane and play a cytoprotective action…All these results revealed that P188 attenuates TBI-induced brain edema by resealing BBB and regulating AQP4 expression, and suppressed apoptosis through extrinsic or intrinsic pathway."
In another study conducted by Gu, Ge, Li et al., titled "Poloxamer 188 protects neurons against ischemia/reperfusion injury through preserving integrity of cell membranes and blood brain barrier," the researchers concluded:
"Therefore, the present study concludes that P188 can protect against cerebral ischemia/reperfusion injury, and the protection involves multi-mechanisms in addition to the membrane resealing."
Based upon a review of the current empirical literature, the ability of P188 to reestablish the intactness of the plasma membrane in damaged cells, restoring microvascular function, is well documented. By restoring microvascular function, ischemic tissue injury and organ damage can be avoided or minimized. Ongoing research is currently investigating the use of P188 to treat specific disease states such as acute myocardial infarction (heart attack), cerebrovascular infarction (stroke), peripheral arterial disease, traumatic brain injury, muscular dystrophy, heart failure, neurodegenerative disorders and electrical injuries, and to facilitate biomedical applications such as transplantation.
MST-188- Future Potential
The growing foundation of empirical literature supporting the therapeutic mechanism behind MST-188 creates a myriad of opportunities for MSTX further develop this poloxamer in other indications related to cardiovascular function. As evidenced below, the company is preparing to investigate MST-188 in resuscitation following major trauma, acute heart failure, blood transfusion, and stroke. According to Global Industry Analysts, Inc., the estimated global market for Acute Heart Failure (AHF) therapeutics is projected to reach $4.8 billion by the year 2017. GlobalData estimates that the global acute ischemic stroke therapeutics market is expected to reach approximately $880m by 2018.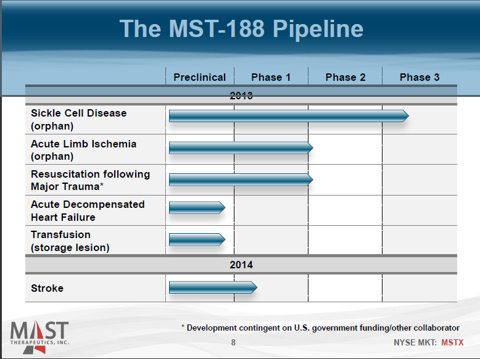 Mast Therapeutics and the Year Ahead
At the present time, the future of Mast Therapeutics appears promising. Data from the tQT/Qtc study found MST-188 met its primary endpoint and demonstrated that, based on analysis of electrocardiograms; it did not have an adverse effect on cardiac repolarization, as measured by prolongation of the QT interval. MST-188 was generally well-tolerated at both therapeutic and supra-therapeutic doses. They have already secured Orphan Designation for SCD in the U.S and EU. The Phase 3 EPIC study has already activated their first site and has begun dosing patients. Additionally, they have filed additional patent applications relating to their proprietary purification process, methods of using poloxamers, and the use of poloxamers in combination therapy.
Upcoming objectives for the remainder of the year include submitting applications for U.S. Government funding for a Phase 2 study of MST-188 for the resuscitation of shock following major trauma, requesting Orphan Designation for MST-188 for ALI in the U.S, initiating a nonclinical proof of concept study in heart failure, open the first ex-U.S. clinical site for the EPIC study, and initiating a Phase 2 study in ALI.
In addition to these goals, MSTX is actively pursuing partnership to assist in ongoing product development. In a March 2013, MSTX hired ESC Advisors to identify partnering opportunities for MST-188. When discussing this development, CEO Brian Culley remarked:
"Given the high unmet need and limited treatment options, sickle cell disease is experiencing significant levels of interest from strategic partners. MST-188 is now the only new molecular entity in Phase 3 development in sickle cell disease. Based on its stage of development, the absence of competitive, novel and late-stage products, its designation as an Orphan Drug in the U.S. and Europe and its potential utility in additional indications, we believe there will be substantial interest in MST-188 from potential partners, both in the U.S. and globally, and we intend to pursue strategic alliances aggressively."
On another occasion, Mr. Culley stated:
"Our recently announced plans to investigate MST-188 in acute limb ischemia, a complication of peripheral arterial disease, also may bolster our partnering efforts. Indeed, we already have been approached by at least one pharmaceutical company that wished to discuss our near- and long-term plans in arterial disease, which we announced just three weeks ago."
Investment Thesis
When choosing to invest in any company I review the following factors: the entity being developed, current and past clinical studies, finances, ownership, and the potential market for drug to help assign value. In examining these factors in respect to Mast Therapeutics, I come to the following conclusions:
MST-188 has been proven to be safe and effective in previous studies for SCD and ALI. Other researchers, not affiliated with the company, have replicated the therapeutic action of P188 in animal and human subjects for other medical conditions. Thus the therapeutic action for which the company is utilizing MST-188 is supported by an abundance of empirically validated studies, published in peer reviewed journals. Previous Phase 2 and Phase 3 studies of MST-188 provided statistically significant results. In regards to the earlier Phase 3 study, the researchers concluded that their experimental design was poor, resulting in the statistically significant, but relatively small effect. The failure of this previous study is debatable, as it allowed Mast Therapeutics to utilize the lessons learned when developing the ongoing EPIC study. As detailed above, it is evident that management has taken advantage of this by focusing the present study on adolescents between the ages of 8-17, with whom MST-188 has already been found to have a more significant effect. Additionally, by working with the FDA they have developed clearly defined, quantifiable endpoints, a serious limitation of the previous study. The refined study design combined with the proven effectiveness of MST-188 in children aged 8-17, significantly increases the likelihood that their Phase 3 EPIC study will be a success. Furthermore, hydroxyurea, the most common pharmacological treatment for SCD is not approved for use in children increasing the demand for MST-188 in this population.
The recent financing completed by MSTX was a significant blow to their shareholders, effectively doubling or more, the number of outstanding shares. While unfortunate, this allows an excellent opportunity for new investors and creates a solid financial foundation for the company to progress their development of MST-188. Often, companies enter into smaller rounds of dilutive financing, a practice that can erode shareholder confidence and increase risk to any potential investor. By completing one, large financing, MSTX management has given themselves sufficient financial resources to advance their current pipeline as well as initiating future clinical studies. Given the current burn rate of $5-6 million a quarter and available cash of $69.6 million (once all warrants are exercised) MSTX has adequate financial resources for at least 3 years, which would allow them ample time to bring at least one application of MST-188 to market.
Another benefit to the recent offering was the significant increase in institutional ownership. A review of current SEC 13g's indicates that institutional investors such as Franklin Templeton and Deerfield Capital Management have established significant holdings in MSTX. At the present time, large institutions own approximately 50% of MSTX. The presence of these large institutions not only shows confidence in MSTX and their Phase 3 study, but should also give retail investors confidence in investing in MSTX.
Given the novelty of MST-188 and the Orphan designation of SCD, assessing market potential and value to MSTX is difficult. To develop a basic idea of potential value, one can examine the merger and acquisition activity of other pharmaceutical companies attempting to treat the same indication. In September 2012, Novartis entered into an exclusive option to acquire Selexys following the completion of a Phase II study in patients with SCD. Upfront, acquisition, and milestone payments from Novartis (NYSE:NVS) have the potential to reach upwards of $665 million. In another deal, Pfizer (NYSE:PFE) entered into a partnering with GlycoMimetics for their investigational GMI-1070 compound for the treatment of vaso-occlusive crisis associated with SCD. The potential value for this partnership is estimated at approximately $340 million. Based upon the recent merger and acquisition activity, it is estimated that the SCD application of MST-188 is valued at $340-$665 million. It is my opinion that the value should be estimated towards the high end as MSTX is the only company with an ongoing Phase 3 study for SCD.
Assessing MST-188's market potential and valuation to in respect to cardiovascular related diseases is much easier. According to leading analysts, he Peripheral Arterial Disease therapeutics market is expected to reach $1 billion by 2017, the estimated global market for Acute Heart Failure therapeutics is projected to reach $4.8 billion by the year 2017, and global Acute Ischemic Stroke therapeutics market is expected to reach approximately $880m by 2018.
It is clearly evident that MSTX is grossly undervalued with a market cap of only $44 million, while its leading product has multi-billion dollar potential. Appreciation of 5x to 10x ($2.25- $4.50) in the two years leading up to the Phase 3 results is not unreasonable and may occur sooner based on partnerships and Phase 2 ALI results (18 months). This hypothesis is further supported by the recent rise in another Orphan drug company, BioCryst Pharmaceuticals (NASDAQ:BCRX). While these two companies differ in respect to the products being produced, they both have ongoing Phase 2 and Phase 3 studies for market indications valued in the billions.
Summary
In sum, I believe MSTX represents a significantly undervalued biotech with exponential upside. Current clinical focus is related to high profile Orphan designated diseases, SCD and ALI, and the company has only begun to explore the use of its key drug in treating other pathologies, to include cardiovascular related diseases. Recent financing has created a financial foundation for the company to engage in partnership discussions or develop MST-188 alone, as well as reducing investor risk. The success of the tQT/Qtc study and safety profile of MST-188 significantly limits the potential for any unexpected, negative study outcomes due to safety. The EPIC study has been well designed around an indication for which MST-188 has already been found to be effective to a statistically significant degree. Furthermore, MST-188 is being evaluated for multiple indications relating to cardiovascular diseases with a market potential measured in the billions.
Disclosure: I am long MSTX. I wrote this article myself, and it expresses my own opinions. I am not receiving compensation for it. I have no business relationship with any company whose stock is mentioned in this article.